Price and inventory may vary from online to in store.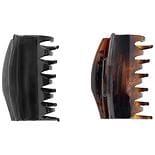 Scunci No-Slip Grip Hidden Hinge Jaw Clips Small Assorted Colors (2 ea.)
Jaw clips
Create a fun, sophisticated or flirty look with jaw clips that securely clasp around your hair. These hair clips come in neutral colors like brown and tan, as well as vivid shades for younger girls. Some jaw clips even feature designs such as butterflies or flowers for a unique accessory. Top brands such as Scunci and Conair offer these clips and more hair accessories here at Walgreens.com.
Choosing a clip
If you have thick or long hair, you may need a longer jaw clip to hold it all in place. For styling short or fine hair, a smaller clip should do. Anyone can use a smaller jaw clip to hold back sections of hair for a unique style. Choose a clip with a non-slip grip so that you won't have to re-do your hair throughout the day.
More styling products
In addition to jaw clips, we carry many other accessories to help you make your style your own. You'll find a range of hair appliances, tools and accessories that you can use to tame your hair. Combs and hair picks are ideal for use on wet hair, and hair brushes can impart shine as they detangle. There are also barrettes and hair elastics to style with or to simply keep your hair out of your face.