Price and inventory may vary from online to in store.
L'Oreal Paris True Match Lumi Healthy Luminous Makeup Nude Beige (1 fl oz)
L'Oreal Paris Infallible Pro-Matte Liquid Foundation Makeup Creme Cafe (1 fl oz)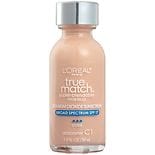 L'Oreal Paris True Match Super-Blendable Foundation Makeup Alabaster C1 (1 fl oz)
L'Oreal Paris True Match Super-Blendable Compact Makeup Natural Beige W4 (.3 oz.)
Loreal Makeup
Put your best face forward with the complete line of L'Oreal makeup. Formulated to give you the look you want while keeping your skin vibrant and healthy, L'Oreal offers dozens of products for your eyes, lips and skin. Accentuate and add volume to your eyelashes with L'Oreal mascara. Hide blemishes or discoloration with L'Oreal concealer. Bring out your eyes' natural color and shape with the L'Oreal eyeliner. Add the right amount of color to your cheeks with one of L'Oreal's specially formulated blushes. Whether you are looking to draw attention to one feature or you want to create a complete style, L'Oreal helps you to achieve the right look.
Full beauty product line
L'Oreal's extensive beauty product line includes hundreds of L'Oreal lip colour shades, blush colors and mascara types, as well as cleansers like L'Oreal makeup remover and numerous accessories. From makeup pencil sharpeners to brushes, L'Oreal has everything you need to fully stock your makeup case.