Price and inventory may vary from online to in store.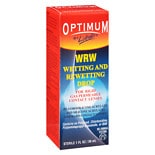 Lobob Optimum Wetting and Rewetting Drops (1 oz.)
$1349
$13 and 49 cents
$13.49

/ oz.
No-Rub Contact Solution
It always seems that there are not enough hours in the day to get everything that you need to get accomplished, done. Sometimes, it feels as if you don't even have the time available to perform important parts of your personal care routine, including cleaning your contact lenses. Still, you cannot afford to skip cleaning, as allowing debris and impurities to linger on your contacts can cause health issues, increasing your risk of developing eye infections or cause your eyes to become red and irritated. No rub contact lens solutions were developed to help make contact lens care quicker and easier, so that it fits more easily into busy schedules like yours. These products are designed to remove impurities without requiring you to rub your contact in your palm to loosen the particles. Some people also prefer no rub solutions because they believe that they pose less of a risk for tearing or damaging lenses during cleaning.
No-Rub Solutions for Your Contact Care Regimen
Walgreens carries no rub contact solutions from top eye care brands and features low prices on formulas every day. The collection includes special packages that contain more than one bottle of no rub contact solution for a low price, making it very affordable to stock up on contact care products. When you shop at Walgreens, you'll get the convenience of being able to shop online and have your product sent to you instead of having to take time out of your schedule to visit a store. The contact lens care collection at Walgreens also includes saline solutions, disinfectants, rewetting drops and even contact lenses for home delivery. Shop the entire collection to get all of your essentials in one place and get a great deal with Walgreens' low prices. When shopping for contact lens care products, be sure to follow the advice given to you by your eye doctor. Only purchase the brand or type of lens care products that he or she has recommended. No rub contact lens products are not ideal for all types of contacts or for all contact lens wearers, so be sure to discuss them with your eye doctor before using one.