Price and inventory may vary from online to in store.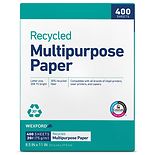 Wexford Recycled Paper Ream (400 sh)
Sale price is $3 and 99 cents

And Regular price is $4 and 99 cents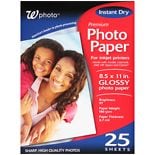 Walgreens Premium Photo Paper 8.5 x 11 in Glossy (25 ea)
Printer Paper
Computers can help you accomplish some amazing things, but the only way to produce physical incarnations of your projects is by using a printer. The printer paper that you use can actually have a major impact on how well your finished products turn out because of the way the paper's weight and type impact the appearance of the ink. You can find a wide selection of printer paper and other office supplies here at Walgreens for all your printing needs.
Advantages of Multipurpose Paper
Regular printing might be a part of your daily life if you're a student or work in an office, but most people print relatively rarely. As such, your printing tasks might be incredibly varied and could range from black-and-white documents to full-color media pictures or flyers. Often, the best type of printing paper to have around the house is the variety that can be used for almost any task. Multipurpose paper is typically matte--which allows the ink to dry quickly and prevents smudging. With qualities like medium weight and brightness, the paper is perfect for everyday print jobs because it usually holds up well while still being relatively inexpensive. You can usually find multipurpose paper sold by the ream (500 sheets).
Types of Specialty Printer Paper
While multipurpose paper may do the trick for most of your printing needs, certain situations require special types of printer paper.
Resume Printer Paper
Resume paper is slightly heavier than plain white paper. It may occasionally have a slightly off-white or cream color that is designed to make it stand out from a stack of resumes. You might decide to use this sort of paper when submitting your application for an important job.
Card Stock Printer Paper
Card stock is another specialty paper that is much heavier and stiffer than regular printer paper. This type of product is an excellent choice for projects like scrapbooking and can also be used for printing postcards or business cards.
Photo Paper
If you want to use your printer for high-quality pictures, then you may decide to invest in some photo paper. Glossy and quick to dry, this type of product can be used to print photos at home.