Price and inventory may vary from online to in store.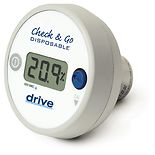 Drive Medical O2 Analyzer with 3 Digit LCD Display (1 ea)
Sale price is $305 and 99 cents

And Regular price is $329 and 99 cents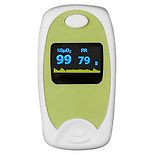 HealthSmart Fingertip Pulse Oximeter, Deluxe (1 ea)
Pulse Oximeters at Walgreens
Non-invasive and compact, pulse oximeters measure your blood oxygen saturation level. They also display your heart rate. You can use a pulse oximeter to help manage certain conditions for your health or to care for a patient or loved one. Choose a fingertip pulse oximeter from Choicemmed, Mabis or MedQuip with a display that offers accurate, easy-to-read results.
Getting Reliable Readings
Since there's no finger-pricking involved, pulse oximeters are simple to use multiple times throughout the day. While most are used on your fingertip, there is also a wrist pulse oximeter that features internal memory for storing your readings. Many finger pulse oximeters have multi-directional displays that allow you to read the results from almost any angle.
Healthy Living
In addition to oximeters, we carry a range of products to help you keep track of your health and well-being. If you have a pulmonary condition and are trying to quit smoking, you can find assistance here at Walgreens.com. If you use a pulse oximeter while exercising, there are other options to help you make the most of your workouts, such as fitness equipment, workout accessories and sports nutrition.