Price and inventory may vary from online to in store.
Walgreens Oral Relief Spray Cherry (6 fl oz)
$579
$5 and 79 cents
$0.97

/ oz.
Walgreens Multi-Symptom Oral Relief Spray Wild Berry Flavor (1 fl oz)
$599
$5 and 99 cents
$5.99

/ oz.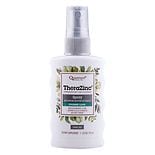 Quantum Health Thera Zinc Spray Peppermint Clove Flavor (2 fl oz)
$699
$6 and 99 cents
$3.50

/ oz.
Sore throat sprays
Sore throat sprays are not just for sore throats. They are convenient for treating minor mouth irritations and dryness, and you can choose from a wide assortment of sore throat sprays with refreshing flavors and ingredients. There are several brands of sore throat sprays including Chloraseptic and Cold-Eeze.
Sprays for mouth and throat soreness
Sore throat sprays contain topical analgesics that relieve pain and discomfort as soon as they come into contact with sore or painful areas in your mouth and throat. These pain relievers are mixed with refreshing and flavorful ingredients such as menthol, which give you a refreshing, cooling feeling that further helps to soothe discomfort in the mouth and throat. Some sore throat sprays are also recommended as canker sore remedies, and others are made especially for children.
Choosing and using sore throat sprays
Some concentrated sore throat sprays are recommended for relief of severe sore throats, and they are equipped with spray nozzles that target the throat with an intense burst of analgesic spray. Others are meant for general use, including canker sore treatment as well as caring for sore or parched throats. Ask your doctor or dentist whether your child needs a sore throat spray that is made especially for kids. Some regular sore throat sprays can be used by older children so long as they are used according to the directions on the label. Sore throat sprays are very convenient and useful to keep in your medicine cabinet, so make sure to order enough of your favorite throat spray.