Price and inventory may vary from online to in store.
Sale price is $52 and 99 cents

And Regular price is $72 and 99 cents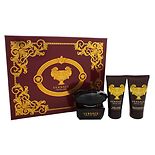 Gianni Versace Crystal Noir Gift Set, 3 Piece (3 ea)
Sale price is $48 and 89 cents

And Regular price is $75 and 00 cents
Versace Crystal Noir
Crystal Noir was developed with the Versace woman in mind. The innately confident and sexy Versace woman exudes beauty and sophistication wherever she goes. And as a woman with an elegant sense of style, not just any fragrance will do. She wants a splendid fragrance as multifaceted as a diamond and worthy of a walk down the red carpet. There is only one fragrance that can meet her standards and that's Versace Crystal Noir.
Magical Fragrance
Crystal Noir is an intricate perfume that can be described as ethereal yet erotic with a subtle but over-the-top, enduring scent. This opulent perfume has an oriental-floral fragrance that is perfect for special occasions and evening wear or anytime an extra treat is needed. A woman wearing Crystal Noir feels self-assured, utterly feminine, and completely immersed in luxury. Layering the luscious scent of Crystal Noir bath products over every square inch of her skin is a woman's absolute indulgence.
Jeweled Notes
With top notes of earthy amber and sweet gardenia, followed by middle notes of cardamom, ginger, and spicy pepper, it's not surprising that Crystal Noir's unique blend of scents is brought to perfection with a final note of creamy musk. The different facets of this fragrance sparkle on a woman like an invisible diamond. So, it is only fitting that the perfume bottle itself be as elegant and complex as a beautiful jewel.
A Symbol of Italian Luxury
After presenting his first design collection under his own name in 1978, Gianni Versace became known as one of the most talented fashion designers of the 20th century. Versace's designs are recognized around the world for their ultra-sensual style, immaculate craftsmanship, and unsurpassed quality. Since Gianni's death in 1997, his sister, Donatella Versace, has been at the helm with a creative energy that continues to make the Versace brand a true symbol of Italian luxury.
Whether you are a Versace woman or would like to be a Versace woman, Crystal Noir perfume is a modern, sophisticated fragrance that gives every woman the feeling of refinement and luxury like no other scent can.