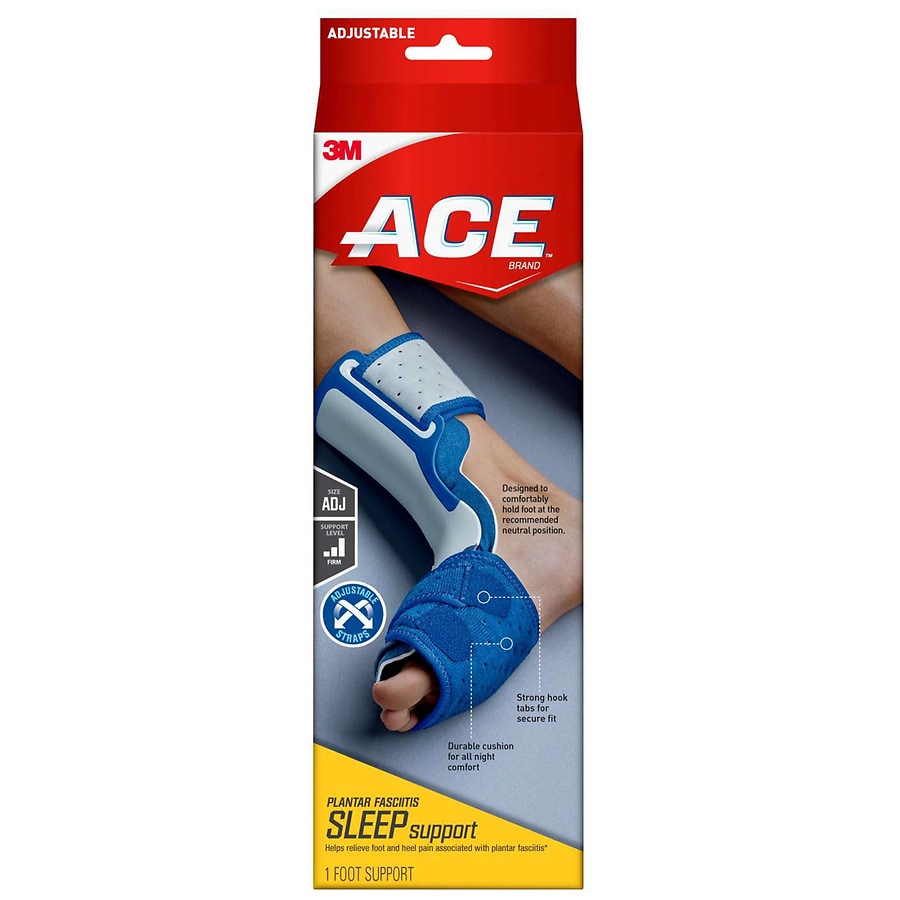 Ace Plantar Fasciitis Sleep Support Adjustable Gray
1.0 ea
4.3
(22)
Online and store prices may vary
Trusted brand since 1918.
Helps relieve morning foot and heel pain. This product can be used on the left or right foot, with or without a sock. Comfortably holds the foot in the recommended therapeutic position all night long for those suffering from plantar fasciitis. Breathable, moisture releasing straps are durable and soft. Flexible edges for comfortable, customized fit. Durable cushion for all night comfort. Provides the highest level of support and stabilization, using flexible, hinged, plastic and/or aluminum stabilizers to help reduce risk of re-injury and relieve symptoms associated with acute injuries.
Firm stabilizing support
Latex free materials
Care: Remove calf and foot straps from rigid plastic support. Secure fasteners to straps prior to washing. Hand wash components separately with mild soap in warm (not hot) water. Rinse well and air dry fabric components. Towel dry plastic component. Note: Support to be worn on top of foot. Bottom of support contains picture of foot.
Loosen fasteners on calf and foot straps. Slide foot through calf strap so support rests on top of foot
Adjust position of support so calf strap is approximately 2 inches above the ankle bone. Adjust calf strap from both sides to provide a firm, yet comfortable fit
Center wide portion of foot strap under ball of foot. Attach fastener on wider end of foot strap to top of support. Pull toes up, wrap remaining strap around foot and attach fastener
Size selection: Designed for use on either the left or right foot. The adjustable fasteners create a customized fit for most body types. Measure the circumference approximately 2 inches above the ankle bone. Adjust to fit size: 8-15 in. or 20.3-38.1 cm.
©2011 3M
Do not: machine wash, tumble dry, dry clean, or use bleach fabric softeners. Contraindications: ACE Brand Plantar Fasciitis Sleep Support is not recommended for individuals with diabetes, neuropathy, or vascular disease. Product not intended for load bearing. Please consult your physician before using. If discomfort or pain results, persists or increases, discontinue use and consult a physician.
Fiber content: Polypropylene, Polyurethane Foam, Polyester, Nylon, TPE, Spandex