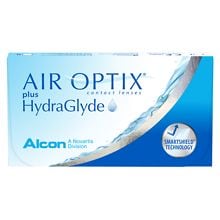 Air Optix plus Hydraglyde
1.0 Box
5.0
6 lenses per box
1 year supply = 4 boxes (2 per eye)
Ships for FREE |
Allow 4 business days for shipping after prescription verification.
Already have a contact lens prescription through Walgreens.com? Reorder Contact Lenses
AIR OPTIX plus HydraGlyde - 6 Pack
Packaging: 6 Lenses per box
Annual Supply: 4 boxes (2 per eye)
Wear Schedule: Daily wear or up to 30 nights of extended wear
Replacement: Monthly
Lens Material: Lotrafilcon B
Manufacturer: Alcon Laboratories Inc.
AIR OPTIX® plus HydraGlyde® contact lenses
Consistent Comfort from Day 1 to Day 30*
AIR OPTIX® plus HydraGlyde® contact lenses bring together two advanced technologies—SmartShield® Technology and HydraGlyde® Moisture Matrix—designed to provide deposit protection and long-lasting lens surface moisture.
Optimize your lens wearing experience with OPTI-FREE® PureMoist® multipurpose solution or CLEAR CARE® PLUS hydrogen peroxide disinfecting solution.
*Based on a clinical study with AIR OPTIX® AQUA sphere lenses.
Important information for AIR OPTIX® plus HydraGlyde® (lotrafilcon B) contact lenses: For daily wear or extended wear up to 6 nights for near/far-sightedness. Risk of serious eye problems (i.e., corneal ulcer) is greater for extended wear. In rare cases, loss of vision may result. Side effects like discomfort, mild burning or stinging may occur.
Ask your eye care professional for complete wear, care and safety information.
© Novartis 5/18 US-VCM-18-E-1120