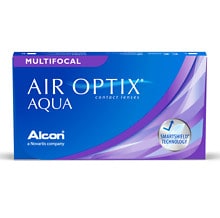 Air Optix Aqua Multifocal
1.0 Box
4.7
(315)
6 lenses per box
1 year supply = 4 boxes (2 per eye)
Air Optix Aqua Multifocal - 6 Pack
Packaging: 6 Lenses per box
Annual Supply: 4 boxes (2 per eye)
Wear Schedule: Daily wear or up to 6 nights of extended wear
Replacement: 4 Weeks
Lens Material: Lotrafilcon B
Manufacturer: Alcon Laboratories, Inc.
AIR OPTIX® AQUA Multifocal contact lenses
Delivers consistent comfort all month long and features SmartShield® Technology to help resist deposits.
The unique Precision Profile® optical design allows for a range of prescription strengths to blend across the lens. It works with your eyes'''''''' natural function for uninterrupted clear vision, near through far.
Clear vision at all distances, near through far.
Smooth transition between a wide range of distances.
Optimize your lens wearing experience with OPTI-FREE® PureMoist® multipurpose solution or CLEAR CARE® PLUS hydrogen peroxide disinfecting solution.
Important information for AIR OPTIX® AQUA Multifocal (lotrafilcon B) contact lenses:
For daily wear or extended wear up to 6 nights for near / far-sightedness and/or presbyopia. Risk of serious eye problems (i.e., corneal ulcer) is greater for extended wear. In rare cases, loss of vision may result. Side effects like discomfort, mild burning or stinging may occur.
Ask your eye care professional for complete wear, care and safety information.
© Novartis 5/18 US-VCM-18-E-1120