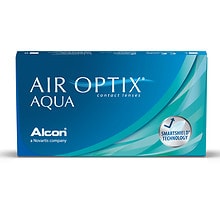 Air Optix Aqua
1.0 Box
4.7
6 lenses per box
1 year supply = 4 boxes (2 per eye)
Ships for FREE |
Allow 4 business days for shipping after prescription verification.
Contact lens prescription information will be faxed to the patient's doctor for verification. This may take 1-3 business days.
Already have a contact lens prescription through Walgreens.com? Reorder Contact Lenses
Air Optix Aqua
Packaging: 6 Lenses per box
Annual Supply: 4 boxes (2 per eye)
Wear Schedule: Daily wear or up to 6 nights extended wear
Replacement: Monthly
Lens Material: Lotrafilcon B
Manufacturer: Alcon Laboratories, Inc.

AIR OPTIX® AQUA

AIR OPTIX® AQUA contains an advanced combination of oxygen and moisture for a healthy, natural feeling.

Visibility Tint to help find your lenses

High oxygen transmissibility

Patented, permanent, biocompatible plasma surface treatment

Excellent initial as well as all-day comfort with the AQUA Moisture System

Approved Wearing Schedule: Daily wear and up to 6 nights extended wear