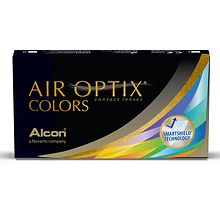 Air Optix Colors 6 pack
1.0 Box
4.1
6 lenses per box
1 year supply = 4 boxes (2 per eye)
Ships for FREE |
Allow 3 business days for shipping after prescription verification.
Contact lens prescription information will be faxed to the patient's doctor for verification. This may take 1-3 business days.
Already have a contact lens prescription through Walgreens.com? Reorder Contact Lenses
Air Optix Colors - 6 Pack
Packaging: 6 Lenses per box
Annual Supply: 4 boxes (2 per eye)
Wear Schedule: Daily
Replacement: Monthly
Lens Material: Lotrafilcon B
Manufacturer: Alcon Laboratories, Inc.
AIR OPTIX® COLORS contact lenses
Enhance any eye color with AIR OPTIX® COLORS, the most breathable* contact lenses, among leading color contact lenses.
AIR OPTIX® COLORS contact lenses create a beautiful look that blends naturally with any eye color—whether you have dark eyes or light, whether you need vision correction or not. These breathable* contact lenses provide stunning eye color and outstanding comfort. Plus, the monthly replacement schedule is easy to remember.
Features SmartShield® Technology which creates an ultra-thin protective layer to help shield your lenses from irritating deposits and provide consistent comfort all month long.
Optimize your lens wearing experience with OPTI-FREE® PureMoist® multipurpose solution or CLEAR CARE® hydrogen peroxide disinfecting solution.
*Dk/t=138 @ −3.00D. Other factors may impact eye health.
Important information for AIR OPTIX® COLORS (lotrafilcon B) contact lenses: For daily wear only for near/far-sightedness. Contact lenses, even if worn for cosmetic reasons, are prescription medical devices that must only be worn under the prescription, direction and supervision of an eye care professional. Serious eye health problems may occur as a result of sharing contact lenses. Although rare, serious eye problems can develop while wearing contact lenses. Side effects like discomfort, mild burning or stinging may occur. To help avoid these problems, patients must follow the wear and replacement schedule and the lens care instructions provided by their eye doctor.
Ask your eye care professional for complete wear, care and safety information.
© Novartis 5/18 US-VCM-18-E-1120