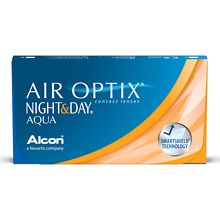 Air Optix Night & Day Aqua
1.0 Box
4.6
(337)
6 lenses per box
1 year supply = 4 boxes (2 per eye)
AIR OPTIX™ NIGHT & DAY® AQUA product details—
AIR OPTIX™ NIGHT & DAY® AQUA lenses start and stay comfortable with the new AQUA Moisture System.
Highest oxygen transmission of any soft lens.
Biocompatible lens surface provides less protein deposition and no increased bacterial buildup1
AIR OPTIX™ NIGHT & DAY® AQUA is clinically proven to reduce symptoms of contact lens-related dryness and end-of-day discomfort2



Wearing Schedule: Daily wear and continuous wear up to 30 nights and days

Recommended Replacement Schedule: Monthly

Rebate Available

1) Keay et al. Bacterial Populations on 30-night Extended Wear Silicone Hydrogel Lenses, CLAO, January 2001.

2) Schafer J, Barr J, Mack C. A characterization of dryness symptoms with silicone hydrogel contact lenses. Optom & Vis Sci. 2003;80(12S):187.