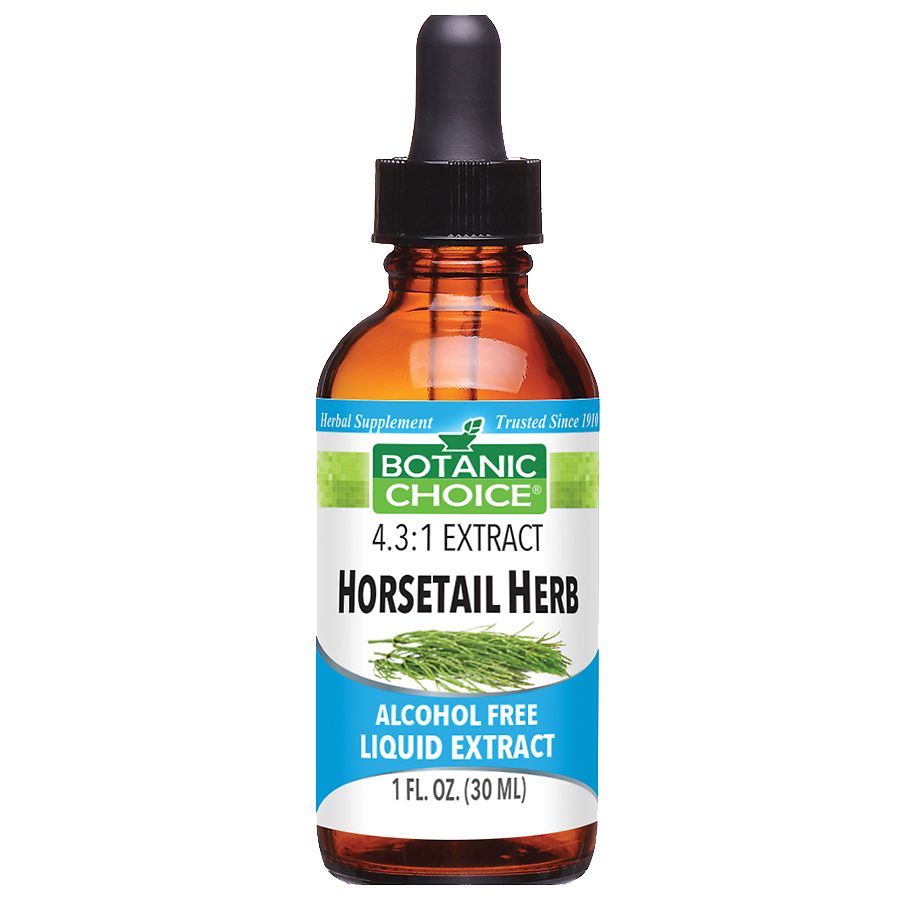 Botanic Choice Horsetail Herb Herbal Supplement Liquid
1.0 oz.
Historically preferred to support healthy ligaments and connective tissues
Thought to deliver the most naturally occurring silicon in the entire plant world
Alcohol free
This well-known perennial herb grows in moist or sandy soil in the Northern Hemisphere. Its name is derived from its creeping, stringy root system. The plant undergoes two growth cycles. The first is a spike, followed by an eighteen-inch tall stem containing numerous small whorls. Horsetail-like plants date back to prehistoric days and have been used for a variety of reasons since the Middle Ages. Everything from scrubbing iron pots to skin issues. Horsetail is also known as bottlebrush, scouring rush and shave grass. Its botanical name is equisetum arvense. ¿
Silica for healthy protein and collagen: It is believed no other herb comes close to the silica levels found in horsetail. Silica helps strengthen protein to keep connective tissues healthy, especially collagen. It also has been prized for joint, bone and ligament health. Today horsetail is often found in nail strengtheners, hair boosting shampoos and conditioners, skin creams, and bone supporting supplements. ¿
Fast acting and easy to swallow liquid extracts work faster and more completely than other forms of supplementation. There are no pills to swallow, no herbs to press or tea to steep, and liquid nutrients are absorbed quickly. Other advantages of liquid extracts include their ability to preserve active constituents, their long shelf life, and convenience. Just add them to water, tea or juice and enjoy a tasty, nutritional boost at home, work, or on-the-go.
Any questions? 1-800-644-8327
*These statements have not been evaluated by the Food and Drug Administration. This product is not intended to diagnose, treat, cure or prevent any disease.
As a dietary supplement, take 1 mL three times daily, in a small amount of water. © 2011 Indiana Botanic Gardens, Inc.
If you are taking any medications or are pregnant or nursing do not use prior to consulting a physician. KEEP OUT OF REACH OF CHILDREN..
Vegetable Glycerin, Purified Water
Single
Serving Size
Serving Per Container
Amount per Serving
%DV
Horsetail Herb Extract
2000mg