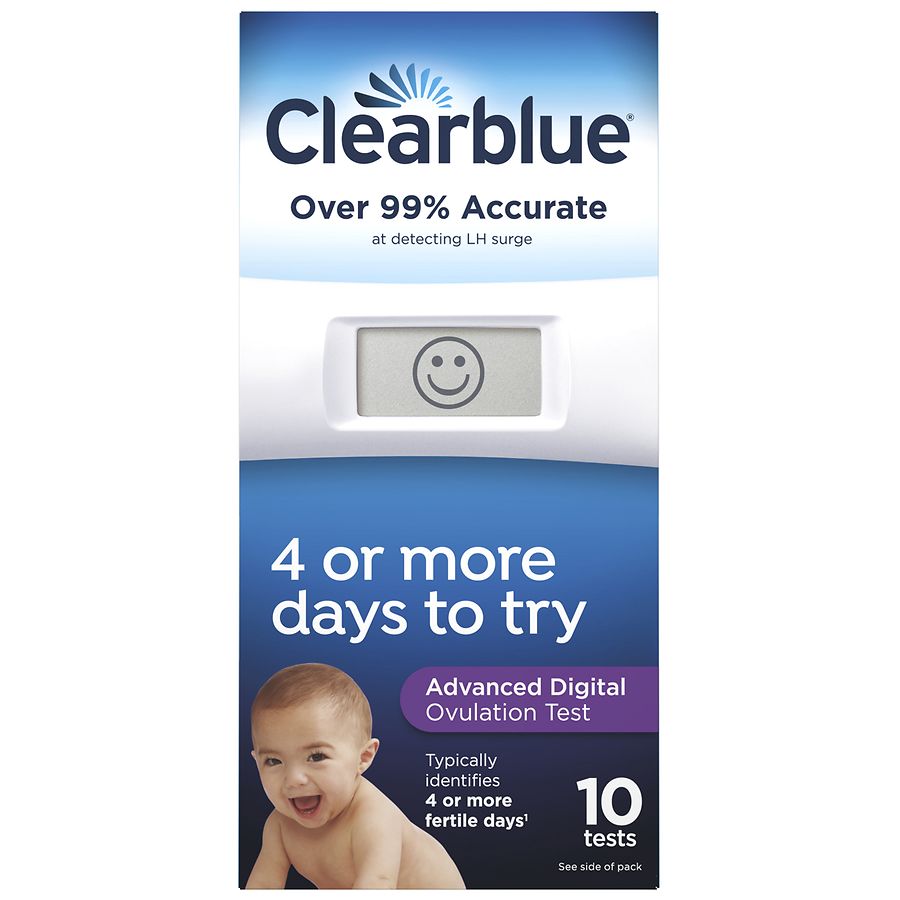 Clearblue Advanced Digital Ovulation Test
10.0 ea
4.5
(28)
Online and store prices may vary
Quick view
4 Best days to get pregnant

More opportunities to get pregnant
Can adapt every time you test

# 1 OB-GYN Recommended Brand
Typically identifies your 4 best days to get pregnant – 2 more than any other ovulation test
Is the only ovulation test to accurately track 2 key fertility hormones
Identifies a wider fertility window, so you have more opportunities to get pregnant naturally
Is over 99% accurate
Can adjust every day you test according to your unique hormone profile
Easy to use – natural and non-invasive urine test
10 tests, 1 month supply
The Clearblue Advanced Digital Ovulation Test is a breakthrough: not only does it detect the rise in LH, it also monitors the level of another key fertility hormone, estrogen, which increases in the days before the LH surge. Because your partner's sperm can survive in your body for up to 5 days, you can actually become pregnant by having intercourse during the days leading up to ovulation. By tracking these 2 key hormones, this test is able to typically identify 4 fertile days leading up to, and including the day of ovulation, twice as many as any other ovulation tests.
1-800-321-EASY
Made in China
These are abbreviated instructions. Do not carry out a test without reading the full in-pack leaflet in the box. Take a test stick out of its foil pouch and take the cap off. Insert the test stick in the holder - lining up the purple arrows – until it clicks into place. When you use the test for the first time in a cycle the 'new cycle' symbol will flash. Look for the 'test ready' symbol. Either put the absorbent sampler pointing downwards into your urine stream for 3 seconds or you can collect a sample of your urine in a clean, dry container and put the absorbent sampler into your collected urine sample for 15 seconds. Replace the cap and make sure you lay the test flat or keep the absorbent sampler pointing downwards. Never hold the test with the absorbent sampler pointing upwards. Within 1 minute the 'test ready' symbol will start to flash to show the test is working. After 5 minutes read the unmistakably clear digital result. If the test displays Low Fertility, you are unlikely to fall pregnant if you have sex today, so it's just for fun and you should test again tomorrow. If the test displays High Fertility, you will increase your chance of conceiving by having sex today but you should test again tomorrow. If the test displays Peak Fertility, you are at your most fertile time. Peak Fertility is displayed for 2 days, but you can stop testing after you see the first one. Ovulation should occur within the next 24-36 hours.
©Procter & Gamble
Store at 36° - 86°F (2°-30°C). Do not freeze. For in vitro diagnostic use. Not for internal use. Keep out of the reach of children. Read instructions before use. Certain medications or medical conditions, including but not limited to Polycystic Ovarian Syndrome (PCOS), may affect the reliability of this test for predicting ovulation. For details see the enclosed instruction insert or visit our website. www.clearblueeasy.com.
Show more
With Card:Spend $25, Get 10000 pts