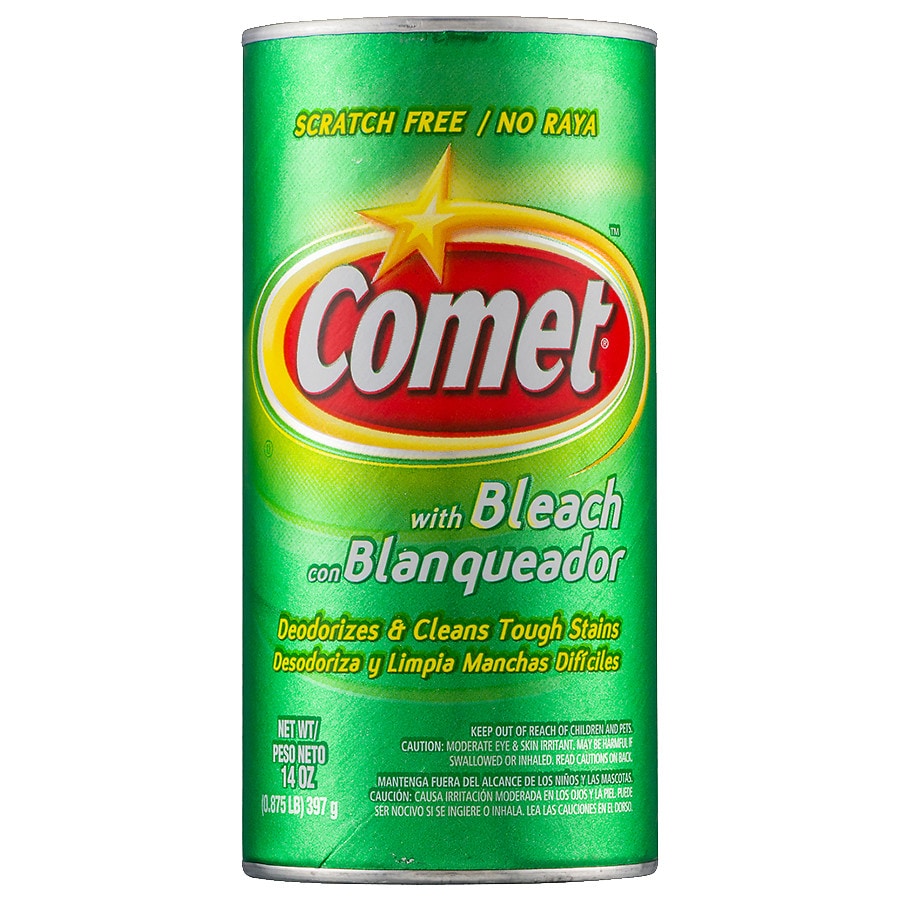 Comet Disinfectant Cleanser with Bleach
14 oz
3.0
$0.99
Savings:$0.20 (20%) on 1
Online and store prices may vary
Temporarily out of stock online
Frequently bought with...
---
Details
Quick view
Use for tough cleaning problems
For all around your house
Cleanser with bleach
Use for tough cleaning problems all around your house on porcelain, stainless steel, fiberglass, Corian® solid surfaces, natural marble and glazed ceramic tile without scratching** while removing crusty food stains and grease off of your kitchen sinks, stoves and countertops. Use in the bathroom for sinks, tubs, tile and fixtures to cut through soap scum and mildew stains on porcelain, fiberglass and glazed ceramic tile. Also disinfects the toilet bowl as it cleans.
All purpose cleanser
Cleans and brightens
Disinfects
**On delicate surfaces like plastic, imitation marble and appliance enamel, use plenty of water, rub gently and rinse. For unfamiliar surfaces, test small area first. Do not use on silver, painted surfaces, walls, soft plastic, aluminum or rubber items (except tires). Do not mix with other products, especially toilet bowl cleaners or products that contain ammonia.
For Use: It is a violation of Federal law to use this product in a manner inconsistent with its labeling. To Clean: For most problems, sprinkle on wet surface or sponge, let sit for 15 seconds, rub and rinse. If problem remains, wet surface, sprinkle again, let stand for one minutes, run and rinse. To Disinfect Non-Porous Surface: Sprinkle on wet surface, rub gently to cleanse, let stand 5 minutes, and rinse. To disinfect toilet bowls: flush, sprinkle 4 oz. onto bowl surfaces, scour thoroughly, let stand 10 minutes, and flush. Wipes out most household germs including Staphylococcus aureus, Salmonella choleraesuis, and Pseudomonas aeruginosa.. © 2009 Prestige Brands International
Warnings
HAZARDOUS TO HUMANS & DOMESTIC ANIMALS CAUTION: KEEP OUT OF REACH OF CHILDREN AND PETS. MODERATELY IRRITATING TO EYES, SINUS & MUCOUS MEMBRANES. Avoid contact with eyes, skin and clothing. MAY BE HARMFUL IF SWALLOWED OR INHALED. DO NOT MIX WITH PRODUCTS THAT CONTAIN AMMONIA AS DANGEROUS FUMES MAY RESULT. WASH THOROUGHLY WITH SOAP AND WATER AFTER HANDLING AND BEFORE EATING, DRINKING, CHEWING GUM, USING TOBACCO OR USING THE TOILET. FIRST AID
EYES: In case of accidental contact, immediately flush eyes with plenty of water for 20 minutes. Remove any contact lenses after the first 5 minutes and continue to flush eyes with water. If irritation develops or persists, contact a doctor.
SKIN: In Case of accidental contact, wash skin thoroughly with water. Remove contaminated clothing and continue to wash with water. If irritation develops or persists, contact a doctor.
IF SWALLOWED: Do not induce vomiting. Drink 1-2 glasses of water and contact a doctor or Poison Control Center immediately. Have the product container or label with you when calling or going for treatment.
IF INHALED: Remove to fresh air. Seek medical attention if coughing persists. HOT LINE NUMBER: Have the product container or label with you when calling a Poison Control Center or doctor, or going for treatment. You may also contact 1-800-926-9441 for emergency medical information..
Ingredients
Active Ingredients:
Sodium Di-Chloro-S-Triazinetrione Dihydrate - 1.2 %
Inactive Ingredients:
Other Ingredients