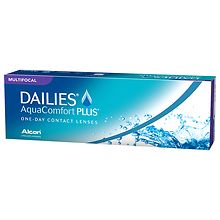 Dailies AquaComfort PLUS Multifocal 30 pack
1.0 Box
4.3
30 lenses per box
1 year supply = 24 boxes (12 per eye)
Ships for FREE |
Allow 3 business days for shipping after prescription verification.
Contact lens prescription information will be faxed to the patient's doctor for verification. This may take 1-3 business days.
Already have a contact lens prescription through Walgreens.com? Reorder Contact Lenses
Dailies AquaComfort Plus Multifocal 30 pack
Packaging: 30 Lenses per box
Annual Supply: 24 boxes (12 per eye)
Wear Schedule: Daily
Replacement: Single Use
Lens Material: Nelfilcon A
Manufacturer: Alcon Laboratories, Inc.

DAILIES® AquaComfort Plus® Multifocal contact lenses
Daily disposable lenses with blink-activated moisture for all-day comfort
Features the industry-leading Precision Profile® design which blends a range of prescription strengths seamlessly for smooth transitions across all distances, near through far.
Ask your eye care professional for complete wear, care and safety information.
© Novartis 5/18 US-VCM-18-E-1120