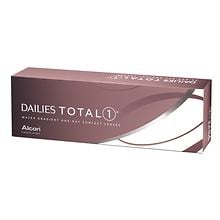 Dailies Total 1 Contact Lens 30 pack
1.0 Box
4.4
30 lenses per box
1 year supply = 24 boxes (12 per eye)
Ships for FREE |
Allow 4 business days for shipping after prescription verification.
Contact lens prescription information will be faxed to the patient's doctor for verification. This may take 1-3 business days.
Already have a contact lens prescription through Walgreens.com? Reorder Contact Lenses
Dailies Total 1 30 pack
Packaging: 30 Lenses per box
Annual Supply: 24 boxes (12 per eye)
Wear Schedule: Daily
Replacement: Single Use
Lens Material: Delefilcon A
Manufacturer: Alcon Laboratories, Inc.

DAILIES TOTAL1® contact lenses
DAILIES TOTAL1® contact lenses create a cushion of moisture on your eye making them so comfortable, you'll forget you're wearing them.
The first and only daily disposable contact lens to offer water gradient technology, which increases water content near the surface of the lens to provide exceptional comfort. Highest breathability* of any daily disposable contact lens for white, healthy-looking eyes
Almost 100% water at the very outer surface of the contact lens to provide exceptional comfort
All that touches your eye is a cushion of moisture
Feels like nothing
No cleaning required
Enjoy that "new lens" feeling every day
*High oxygen transmissible lenses, DAILIES TOTAL1® (delefilcon A) contact lenses Dk/t = 156 @ 3 00D. Other factors may impact eye health.
Ask your eye care professional for complete wear, care and safety information.
© Novartis 5/18 US-VCM-18-E-1120