Deodorant and Antiperspirant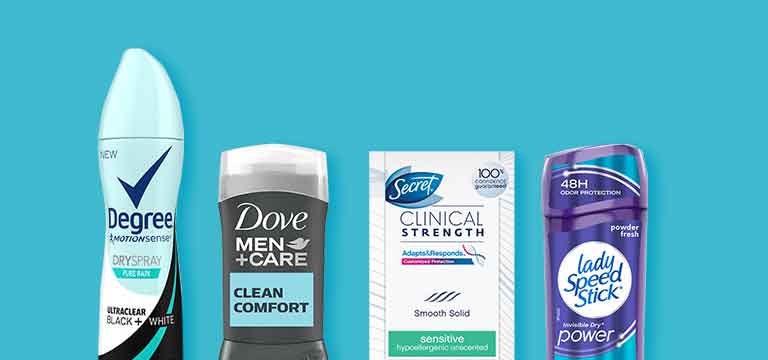 <!--Id is null-->
Deodorant and Antiperspirant at Walgreens
Feeling fresh all day long starts with the right underarm protection. Walgreens can help you find the best solution for controlling body odor with a large selection of deodorants and antiperspirants for men and women available online and in stores. With an array of scents and formulations, we offer something for every need.
What is antiperspirant?
Antiperspirant is a type of underarm protection that reduces how much you perspire. Most of these products contain aluminum salts that block the ducts that release perspiration.
What is the difference between deodorant and antiperspirant?
Deodorant contains ingredients that neutralize or mask odors. This helps you to smell fresher throughout the day but does not keep you from perspiring.
Antiperspirants are formulated to promote drier underarm skin and work by reducing how much sweat is released from ducts in the armpit area.
Many underarm protection products combine deodorant and antiperspirant ingredients to reduce odors and wetness at the same time.
What type of underarm protection is best for heavy sweating?
Clinical strength products are formulated especially for those who perspire heavily and still experience body odor or wetness when using regular underarm protection. These antiperspirants and deodorants contain higher concentrations of active ingredients than conventional underarm protection.
Different types of deodorant and antiperspirant products
Spray deodorant is simple to apply, as it comes in an aerosol can or a spritz bottle. The downside to these products is that it can be difficult to control application.

Stick, roll and gel deodorants and antiperspirants are all applied directly to the skin, allowing for more control.

Roll-on formulas glide on as liquids and then quickly dry.

Stick deodorants have a creamy consistency that lasts throughout the day.

Gels are lighter than sticks and thicker than roll-on liquids. They leave behind a sleek, slippery coating. Many gels are clear for anti-stain benefits.
Deodorant Stains
Many kinds of deodorant and antiperspirant can stain clothing, leaving visible white marks on fabrics. To avoid this problem, look for clear gels and solids. Many brands offer clear deodorant and antiperspirant in formulations for men and for women.
Underarm Protection for sensitive skin
A number of common ingredients in underarm protection products can trigger allergic or hypersensitivity reactions. If you suffer from sensitive skin, talk to your doctor about which type of formula is right for you. Typically, hypoallergenic aluminum-free products made without synthetic fragrances and perfumes are considered best for sensitive and allergy-prone underarms.
Natural Options
Natural deodorant is underarm protection that is made primarily from ingredients found in nature rather than from synthetic chemicals. Crystal deodorant is a popular natural option that uses mineral salts to combat odor-causing bacteria. People who are striving to reduce the amount of chemicals that they use on a daily basis or who are sensitive to synthetic ingredients may prefer natural deodorant.
Products for Other Types of Body Odor
There are a number of body odor products that can be applied to areas besides your underarms. Body powders can be dusted onto the skin to absorb perspiration and neutralize odors. There are also sprays available for combating all-over body odor and odors in intimate areas.