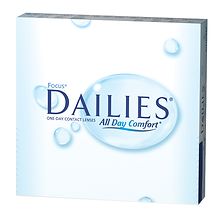 Focus Dailies 90 pack
1.0 Box
4.8
90 lenses per box
1 year supply = 8 boxes (4 per eye)
Ships for FREE |
Allow 3 business days for shipping after prescription verification.
Contact lens prescription information will be faxed to the patient's doctor for verification. This may take 1-3 business days.
Already have a contact lens prescription through Walgreens.com? Reorder Contact Lenses
Focus® DAILIES® 90 pack product details—


Focus® DAILIES® 90 pack include the all-day comfort of blink-activated moisture
Talk to you Doctor and upgrade to DAILIES® AquaComfort Plus® and enjoy the benefits of exclusive DAILIES® blink-activated moisture released from inside the lens with every blink—all 14,000 of them per day!