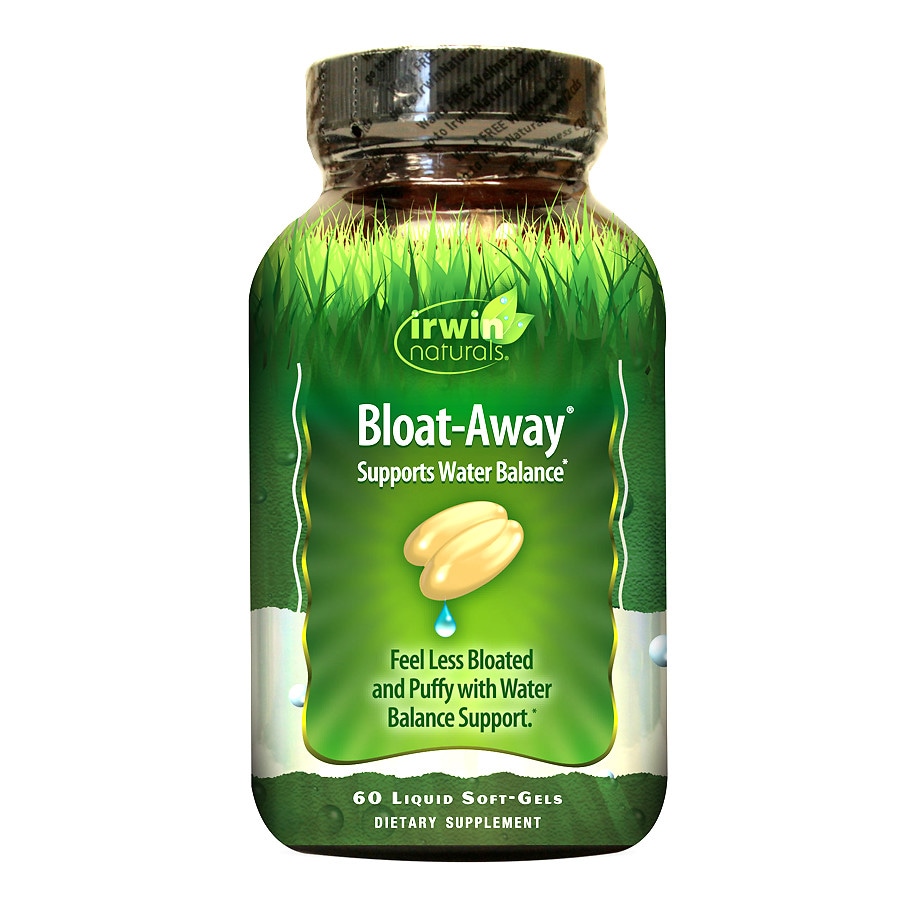 Irwin Naturals Bloat-Away Water Balance Support, Softgels
60.0 ea
Online and store prices may vary
Dietary Supplement
Supports Water Balance*
Feel Less Bloated and Puffy with Water Balance Support*
Bloat-Away®: Feel less bloated and puffy with water balance support.* Bloat-Away® is specially formulated to support the body's natural water balance.
Botanical Blend
Bloat-Away® delivers a targeted blend of botanicals, including Cranberry, dandelion leaf and juniper berry.*
Electrolyte Support
Bloat-Away is enhanced with potassium and nutrient-dense herbs to help replenish electrolytes and essential minerals in the body.*
Antioxidant Support
Bloat-Away® supplies botanicals with known antioxidant activity to help fight free radicals and support cellular health.*
What Makes Us Different:
Liquid Softgels - The nutrients in these easy-to-swallow liquid softgels are released fast. Other forms of delivery can contain binders and fillers that may cause stomach upset and offer no nutritional value. Advanced liquid soft-gels provide an optimum delivery system.

Quality Assurance - We at Irwin Naturals are committed to providing the highest quality products for your health. We employ compliance testing to ensure purity and potency.

Environmental Responsibility - A percentage of our profit is donated to organizations that support the environment. As much as 90% of our future medicines may come from our dwindling rain forests.

Patented BioPerine® - BioPerine® further enhances the bioavailability, absorption and potency of many nutrients.
No preservatives added
1-800-297-3273
*These statements have not been evaluated by the Food and Drug Administration. This product is not intended to diagnose, treat, cure or prevent any disease.
Take up to three (3) liquid soft-gels once a day with a meal and a full glass of water. Store in a cool, dry place.
©Irwin Naturals
Do not use if seal is broken. This product contains ingredients that may affect blood pressure and/or heart conditions. Check with your doctor before using and engaging in activity if you have heart disease, high blood pressure or other medical conditions. Do not use if pregnant or nursing. Individuals with low blood pressure should not take this product. Do not exceed recommended daily intake. Not intended for use by persons under 18 years of age. Keep out of reach of children. Store in a cool dry place. This product contains a chemical known to the state of California to cause birth defects or other reproductive harm. Contains soy and fish (sardine, anchovy).
Potassium (As Potassium Citrate), Flaxseed Oil, Dandelion Powder, Juniper Berry Powder, Uva-Ursi Extract, Buchu Powder, Cranberry Powder, Hibiscus Extract, Chamomile Extract, Cornsilk Powder, Grape Seed Extract, Parsley Extract, Red Raspberry Powder