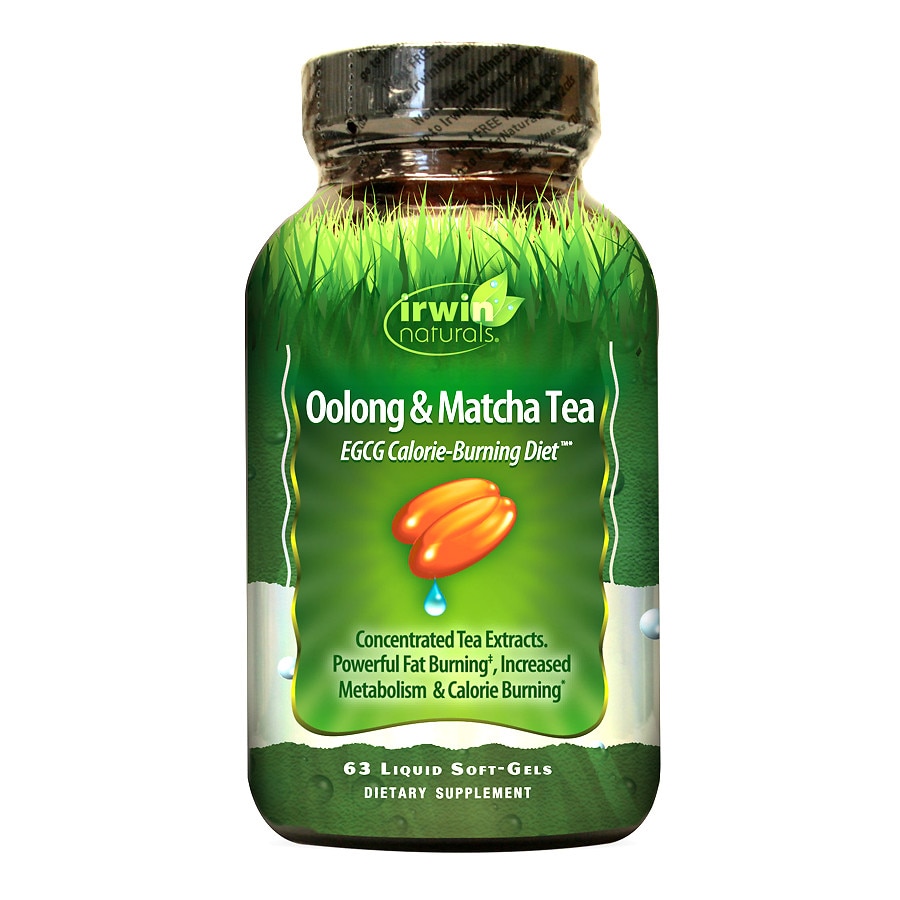 Irwin Naturals Oolong & Matcha Tea, Softgels
63.0 ea
Dietary Supplement
Rapid Calorie-Burning Diet*
BioPerine Enhanced Absorbtion | Omega-3 Fatty Acids, Beneficial for You!
Concentrated Tea Blend for Powerful Fat Burning, Increased Metabolism, & Burning Excess Calories*
Oolong and Matcha Tea have long been key ingredients in traditional Eastern medicine, prized in Asian cultures for over four millenniums. This Oolong and Match Tea formula combines four distinct varieties of teas, along with other traditional Asian herbs, in a single powerful formula to provide support to help you burn excess calories and promote a healthy weight and lifestyle.*
High Powered Tea




A unique blend of four teas highly prized for health benefits and weight-loss support.* Includes Oolong tea naturally concentrated with polyphenols (powerful antioxidants that have been clinically studied for health benefits) as well as Green Tea, Matcha Tea, and White Tea.*

Proprietary Asian Herbal Blend




Includes Asian Ginseng, Schisandra, Astragalus, with White Peony for added cellular protection.* Brown Kelp is a source of unique phytonutrients and may contribute to healthy weight management.*

Thermogenic & Antioxidant Formula




This unique blend of herbs and teas helps boost metabolism and burn calories for optimum weight-loss support, when combined with a reduced calorie diet and exercise plan.*
What Makes Us Different:
Liquid Soft Gels




The nutrients in these easy-to-swallow liquid soft-gels are released fast. Other forms of delivery can contain binders and fillers that may cause stomach upset and off offer no nutritional value. Advanced liquid soft-gels provide an optimum delivery system. No preservatives added.

Quality Assurance:




Irwin Naturals® is committed to providing the highest quality products for your health. We employ compliance testing to ensure purity and potency.

Global Responsibility




Over the years we have donated to organizations that support the environment and the health of our children.

Patented BioPerine®




BioPerine® enhances the bioavailability, absorbtion, and potency of many nutrients.*
1-800-297-3273
*These statements have not been evaluated by the Food and Drug Administration. This product is not intended to diagnose, treat, cure, or prevent any disease.
Adults take 3 Liquid Soft-Gels daily with a meal and a full glass of water. Store in a cool, dry place.
©Irwin Naturals
Contains soy and fish (anchovy and sardine). Do not use if safety seal is broken. This product contains caffeine and may affect blood pressure and/or heart conditions. Check with your doctor before using this product if you are using any medications or have any medical conditions especially heart disease or high blood pressure. Do not use if you are pregnant or nursing. Do not exceed the recommended daily intake. Not intended for use by persons under the age of 18. Keep out of children. If caffeine keeps you up at night, do not take this product in the evening as it contains natural caffeine. Warning: (State of California Prop 65)
WARNING: This product contains a chemical known to the State of California to cause birth defects or other reproductive harm.
Gelatin, Purified Water, Glycerin, Soy Lecithin, Beeswax, Annatto, Titanium Dioxide, St. John'S Bread (Carob), Silicon Dioxide, Turmeric