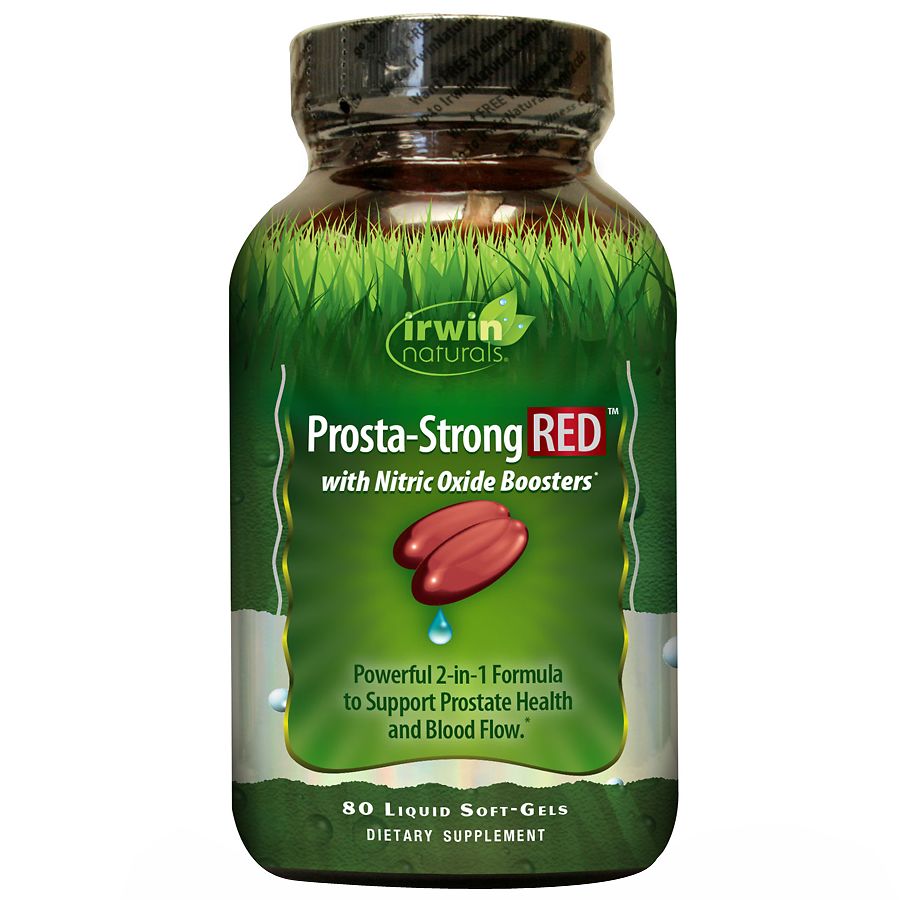 Irwin Naturals Prosta-Strong RED
12.16 oz.
Online and store prices may vary
Powerful 2-in-1 Formula to Support Prostrate health & Blood Flow*
With Nitric Oxide Boosters*
Designed for men who are looking for a natural way to support prostrate health as well as blood flow.*
Prostrate Support: This formula features Saw Palmetto extract that supports the male genitourinary system and promotes optimal prostrate health, as well as healthy urinary flow in men as they age.* Beta Sitosterols and Pumpkin Seed Oil supply natural fatty acids and plant sterols that deliver beneficial nutritional support to the prostrate gland.*
Blood Flow Support: Nitric Oxide is a naturally occurring compound in the body that plays a key role in cardiovascular and sexual health. When Nitric Oxide is present in healthy males in sufficient amounts, erections occur during the normal course of intimacy.
This unique formula features L-Citruline, an amino acid that is readily converted to L-Arginine, which can then be converted to Nitric Oxide in the body.
No preservatives added.
80 Liquid Soft Gels
1-800-297-3273
*These statements have not been evaluated by the Food and Drug Administration. This product is not intended to diagnose, treat, cure or prevent any disease.
(Adult) For daily maintenance, take four (4) Liquid Soft-Gels per day in divided doses, with meals and a full glass of water. For a more immediate response prior to intimacy, take four (4) Liquid Soft-Gels one hour before activity. Do not take more than four (4) Liquid Soft-Gels in one day.
Store in a cool, dry place
© Irwin Naturals
Do not use if safety seal is broken.
This product contains ingredients that may affect blood pressure and/or heart conditions. Check with your doctor before using this product and engaging in activity, if you are using medication or have any medical conditions, including heart disease, high blood pressure, hormone-sensitive conditions or other medical conditions. Individuals with low blood pressure should not take this product.
Do not use if you may become pregnant, are pregnant or nursing.
Do not exceed the recommended daily intake.
Not intended for use by persons under 18. Keep out of reach of children.
Warning: (State of California Prop 65)
WARNING: This product contains a chemical known to the State of California to cause birth defects or other reproductive harm.
Can be taken daily for ongoing maintenance of prostrate support and healthy blood flow, or as needed for a more immediate response prior to sexual activity.*
Gelatin, Purified Water, Glycerin, Annatto, Beeswax, Silicon Dioxide, Soy Lecithin, Titanium Dioxide, Maltodextrin