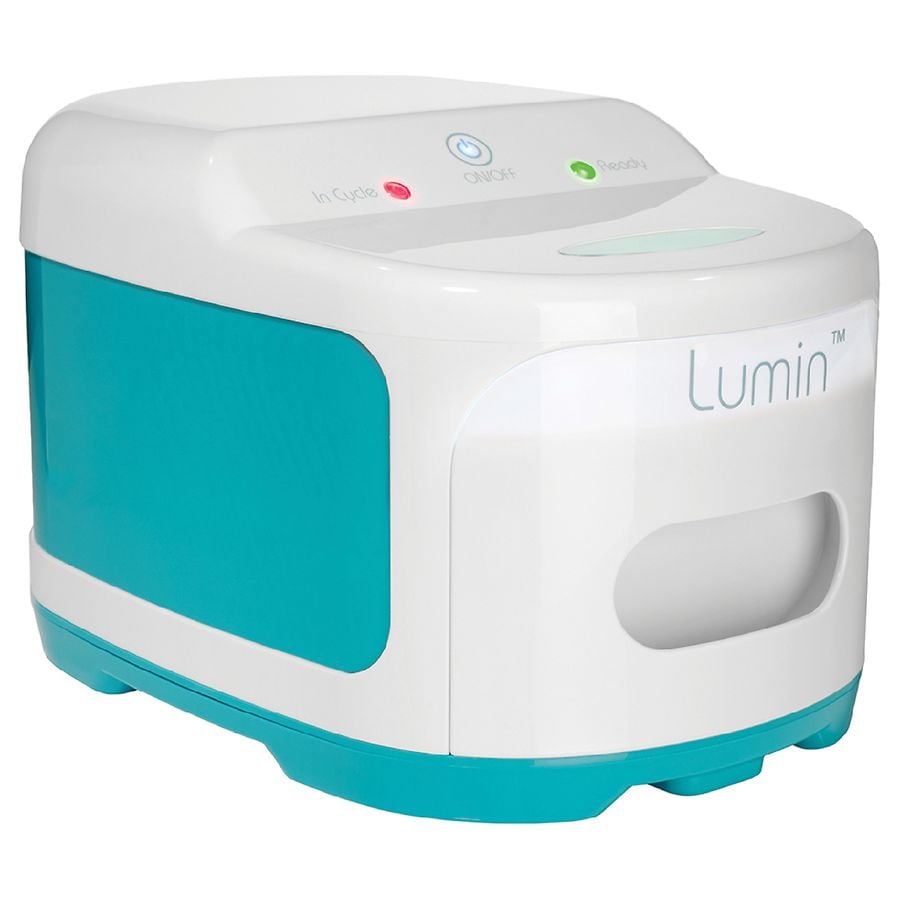 Lumin CPAP Mask and Accessory Cleaner, Ozone Free UV Sanitizer and Disinfectant
1.0 ea
$249.99
Savings:$1.00 (0%)
Ship to home FREE at $35
|
Ship to Store FREE! Details
Details
The Lumin CPAP UV Sanitizer is the fastest and easiest way to clean and disinfect your CPAP mask, reservoir and other accessories without water, chemicals or harmful ozone.
Lumin's UV-C light source completes a disinfection cycle in just 5 minutes with a 99.9% kill rate of bacteria and germs, significantly reducing the risk of infection from an improperly cleaned CPAP. UV-C light is considered to be the safest disinfection option on the market, as Ozone used in other systems has been shown by the EPA to cause irritation of the lungs and respiratory system at relatively low amounts.
The Lumin CPAP UV Sanitizer is the ideal maintenance-free accessory for today's CPAP patient concerned about hygiene. Can also be used as a general-purpose disinfecting system for hearing aids, dentures, pacifiers and even toothbrushes, anything that can be placed in the drawer of the system.
MAIN FEATURES
Developed out of the need for a product that wouldn't damage the CPAP device itself during disinfection and had zero risk of exposing a respiratory patient to lung irritant (no harmful Ozone)
Quick 5-minute disinfection cycle time
UV light kills 99.9% of harmful bacteria, viruses, mold and fungus
Safe and easy to use; simple one-button operation
Comes complete with Lumin UV Sanitizer Device, user manual and sample CPAP mask wipes
Can also be used as a general-purpose disinfecting system for hearing aids, dentures, pacifiers and even toothbrushes, anything that can be placed in the drawer of the system
Sleek design with small footprint is great for bedside use.
Status indicator lights that show cleaning status
Automatic shut-off
24 month warranty
COMPARED TO OTHER CPAP CLEANERS
Includes 24 month warranty vs 12 month
$0.00 replacement filter costs
No prewashing of equipment required
Uses UV to clean and not harmful ozone
5 minute cleaning cycle vs 2 hours
FREQUENTLY ASKED QUESTIONS
Why not ozone?
Ozone risks damaging seals, gaskets, and corroding the electronics of the device. California's Air Resources Board has passed strict standards for ozone use in the home which caution that exposure may both induce and worsen asthma symptoms, worsen lung disease, cause coughing, chest tightness and shortness of breath. Pulmonary physicians have also voiced concern about residual ozone being inhaled by patients.
How does ultraviolet light work as a disinfectant?
UV light encompasses light with wavelengths shorter than visible to the human eye but longer than X-ray radiation. At UV-C wavelengths, the DNA of biological microorganisms is damaged to the point where it can't repair itself, resulting in cell death. A white paper study of the Lumin found that it has a 99.9% kill rate for harmful bacteria, viruses, mold and fungus.
What items can the Lumin disinfect?
The Lumin disinfects CPAP masks and humidifier chambers. Additionally, the Lumin will disinfect personal items such as nebulizers, toothbrushes, oral appliances, hearing aids, toys, pacifiers, etc.
UV-C is known to degrade plastics. Since many CPAP components are made of plastics, how is using the Lumin okay?
The UV-C cycle time is 5 minutes. While it is true that UV-C degrades some polymers over time, the short duration of UV-C exposure ensures there is no degradation within the life of the mask or accessory. Generally degradation starts to occur after 200 hours of exposure. By comparison, one year of daily use with the Lumin is equivalent to 30 hours of UV-C exposure.
What safeguards are in place to ensure users aren't exposed to UV-C?
The Lumin was engineered with a magnetic switch that only operates when the chamber drawer is fully closed. Opening the drawer will automatically power off the device.
Made in China
Place mask and CPAP accessories into Lumin nightly. Close drawer and push CPAP clean button. Cleaning is complete in 5 minutes. ©Copyright 3B Medical, inc.
Warnings
Use nightly for proper CPAP cleaning and sanitizing.
Product Questions & Answers
for self serve
*Many of these answers are provided by manufacturers or other customers. Walgreens does not review, verify, or endorse those answers, which represent the sole opinions of those parties.