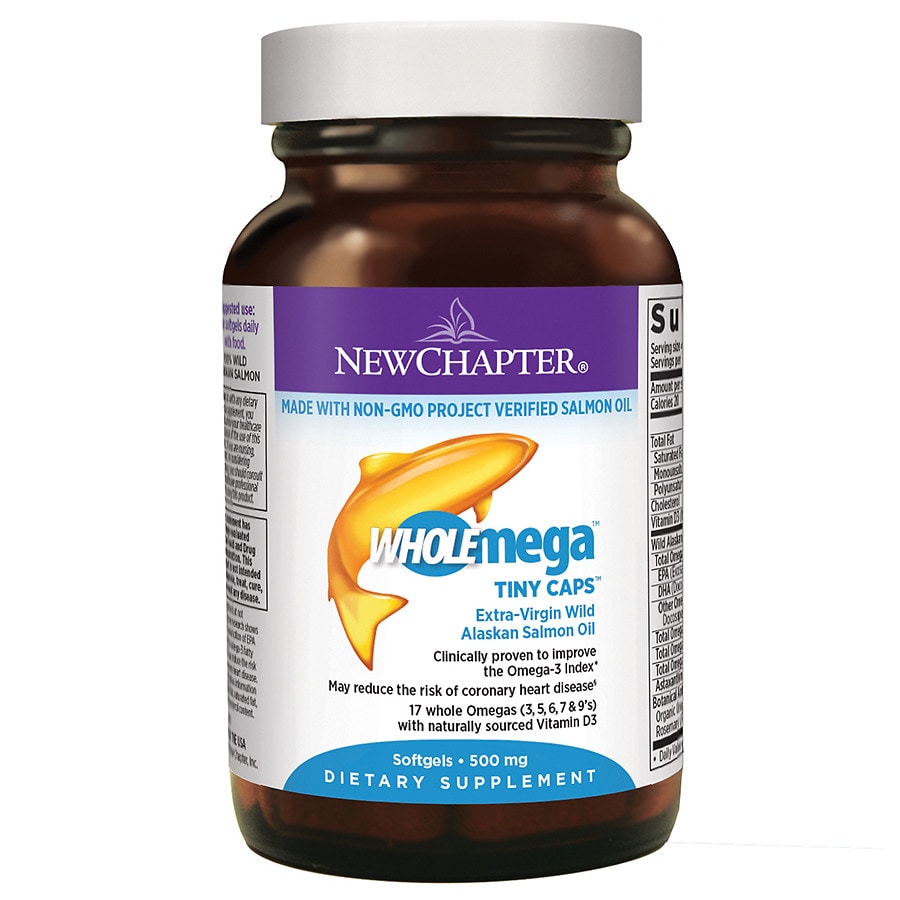 New Chapter WholeMega 1000mg Extra Virgin Omega-Rich Fish Oil Softgels
90ea
$19.19
Savings:$5.00 (26%)
Extra Savings
Extra 15% off with code SPRING15
Ship to home FREE at $35
|
Ship to Store FREE! Details
Details
Dietary Supplement
Nature's Profile of Seventeen Whole Omegas - 3, 5, 6, 7, 8 & 9's
100% sustainably caught wild Alaskan salmon oil
Includes 17 omegas-3,5,6,7 & 9 with DHA & EPA, vitamin D3 and the antioxidant astaxanthin
Heart health support: Clinically shown to improve the omega 3 index in just 2 weeks*
This supplement is fresh-pressed - no isolating of single omegas, no fractionation, no heavy or high heat processing
Gluten free
No artificial flavors
No sweeteners (added to some fish oil gummies)
Naturally sourced whole omegas
Effective: Clinically shown to improve the Omega-3 Index*
Whole: Natural source of whole omegas + vitamin D3 + antioxidants
Health:
Whole food: Wholemega Tiny Caps Whole Fish Oil offers a whole-food alternative to fractionated, highly processed and high-heat purified fish oils.
Extra-Virgin Process: Pressed in a proprietary process similar to fine olive oil, Wholemega preserves natural antioxidants and vitamin D3 that can be removed in other fish oils during processing.
Clinical Results: Human clinical trials have shown Wholemega helps retain healthy triglyceride levels and promotes other studied heart health markers.*
Fresh & Wildly Pure: Naturally pure Wholemega Tiny Caps utilize 100% Wild Alaskan Salmon- from fisheries cited as worldwide models of sustainability.
Three Servings of Salmon: Taking Wholemega Tiny Caps every day for a week (2 gram daily serving) provides the same amount of whole Omega fatty acids as three servings of Wild Alaskan Salmon.
Fractionated, Isolated & High-Heat Purified?
The dull, yellow hue and watery texture of purified fish oil capsules is symbolic of highly processed products. This heavy distillation (which can be necessary to remove contaminants) can fractionate, isolate and sacrifice beneficial compounds that give fish oil its naturally vibrant color and clarity.
Wholemega: The Difference is Clear.
Wholemega Tiny Caps are different. The extra-virgin process used to extract Wholemega, similar to that used in fine olive oil, delivers an oil that is striking in color and transparency. This gentle, food-grade process preserves numerous beneficial compounds- including vitamin D3 and Astaxanthin. The brilliant hue in Wholemega Tiny Caps comes from Astaxanthin- an antioxidant that is naturally found in Wild Salmon and in this extra-virgin fish oil.
New Chapter's Guiding Principles:
To deliver the Wisdom of Nature thus relieving suffering and promoting optimal health.
To advance the organic mission, nourishing body and soul with the healing intelligence of pure whole foods and herbal supplements.
To nurture and sustain Mother Earth, the source of natural healing.
To honor and reward personal growth, for enlightened teamwork depends on the vitality of every member of the New Chapter Family.
Every year we devote a portion of our after-tax profits to the conservation of tropical rainforests and the sacred seeds that sustain all herbal traditions.
1-888-874-4461 or 1-800-543-7279
Supplement Facts

Serving Size 4 softgels (2g)

Servings per container: 22.5

Amount per Serving

1 Softgel

4 Softgels

Calories

5

20

Calories from Fat

5

% Daily Value

18

% Daily Value

Total Fat

500 mg

<1%

2000 mg

3

Saturated Fat

120 mg

<1%

480 mg

2

Monounsaturated Fat

210 mg

**

840 mg

**

Polyunsaturated Fat

170 mg

**

680 mg

**

Cholesterol

<5 mg

1%

15 mg

5

Vitamin D3 (From Wild Alaskan Salmon Oil)

25 IU

6%

100 IU

25

Wild Alaskan Salmon Oil

500 mg

**

2000 mg

**

Total Omega-3 Fatty Acids

130 mg

**

520 mg

**

EPA (Eicosapentaenoic acid)

45 mg

180 mg

DHA (Docosahexaenoic acid)

55 mg

220 mg

Other Omega-3 Fatty Acids (Octadecatetraenoic Acid, Docosapentaenoic Acid, Linolenic Acid, Heneicosapentaenoic Acid, Eicosatrienoic Acid)

30 mg

120 mg

Total Omega-6 Fatty Acids

(Linoleic Acid, Arachidonic Acid, Eicosadienoic Acid)

15 mg

**

60 mg

**

Total Omega-5, 7 & 8 Fatty Acids

(Myristoleic Acid, Palmitoleic Acid, Margaroleic Acid)

24 mg

**

95 mg

**

Total Omega-9 Fatty Acids

(Oleic Acid, Gadoleic Acid, Erucic Acid, Nervonic Acid)

75 mg

**

300 mg

**

Other Omega Fatty Acids

136 mg

**

545 mg

**

Astaxanthin (from Wilk Alaskan Salmon Oil)

1.25 mcg

**

5 mcg

**

**Daily Value not estimated

† Percent Daily Values are based on a 2,000 calorie diet. Your Daily Values may be higher or lower depending on your calorie needs.
Our premium softgel capsules are BSE free.
888-874-4461
*These statements have not been evaluated by the Food and Drug Administration. This product is not intended to diagnose, treat, cure or prevent any disease.
Four softgels daily immediately before a large meal. For best results, take two softgels immediately before your two largest meals. Store in a cool, dry place. Do not refrigerate.
©2016 New Chapter, Inc.
Warnings
As with any dietary or herbal supplement, you should advise your healthcare practitioner of the use of this product. If you are nursing, pregnant, or considering pregnancy, you should consult your healthcare practitioner prior to using this product.
Ingredients
Wild Alaskan Salmon Oil, Oregano Sce, Rosemary Sce, Gelatin, Vegetable Glycerin, Purified Water Usp