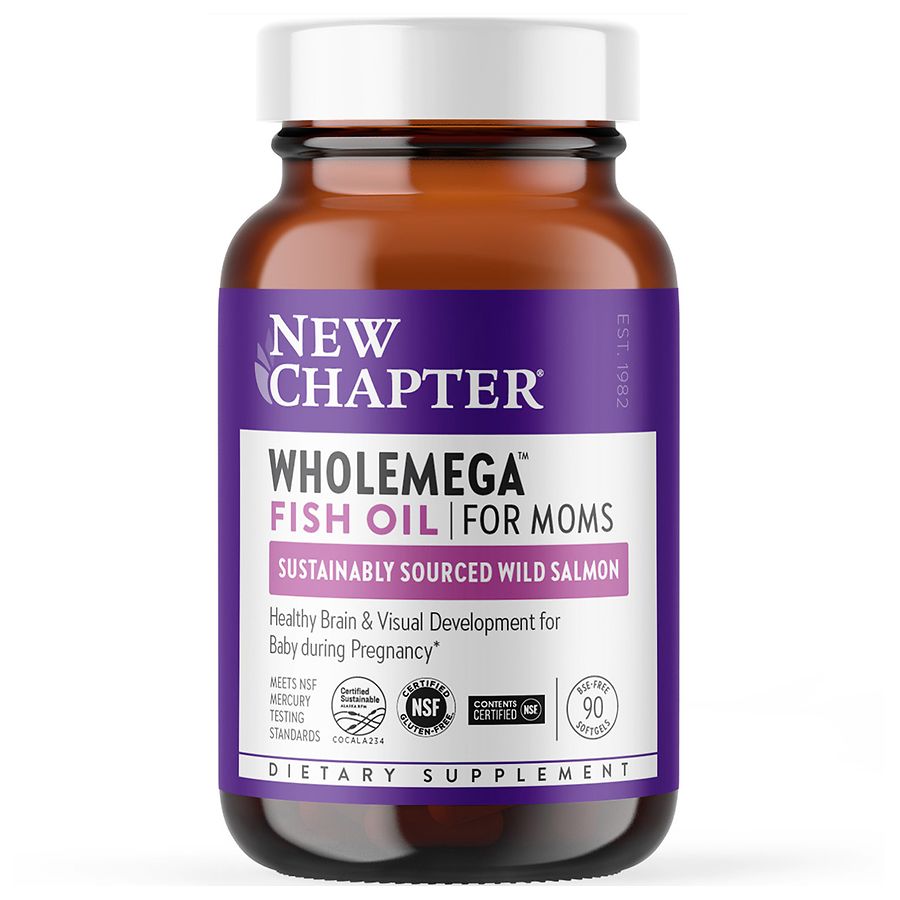 New Chapter WholeMega for Moms 500mg Fish Oil Softgels
90.0 ea
5.0
Dietary Supplement
Whole Fish Oil for Mother & Baby
WholeMega™ for Moms
Prenatal Support | Postnatal Support
Delivers prenatal DHA and the omega-3 fatty acids important during both pregnancy and lactation*
For expecting or nursing moms, wild salmon oil supports baby's healthy brain and eye development*
100% sustainably caught wild Alaskan salmon oil includes 17 omega-3,5,6,7 & 9 with prenatal DHA & EPA, vitamin D3 and the antioxidant astaxanthin
Tiny & easy-to-swallow fish oil supplements are fresh-pressed - no isolating of single omegas, no fractionation, no heavy or high heat processing
Gluten free
No artificial flavors
No sweeteners (added to some fish oil gummies)
Easy to swallow softgels
Wildly Pure™ Whole Fish Oil for Moms & Moms-to-Be
Wholemega™ for Moms is extra-virgin Wild Alaskan Salmon oil gently extracted to help preserve its beneficial compounds and naturally vibrant color.
Wholemega for Moms helps deliver the Omega-3's recommended specifically for pregnant and nursing moms.* For women who are expecting or breastfeeding, good fats from Wild Alaskan Salmon help support your baby's visual and cognitive development.*
Contains: 100% Wild Alaskan Salmon Fish Oil.
Supplement Facts:
Other Omega-3 Fatty Acids: Octadecatetraenoic Acid, Docosapentaenoic Acid, Linolenic Acid, Heneicosapentaenoic Acid, Eicosatrienoic Acid.
1-888-874-4461 or 1-800-543-7279
*These statements have not been evaluated by the Food and Drug Administration. This product is not intended to diagnose, treat, cure or prevent any disease.
Suggested use: Four softgels daily with food.
Store in a cool, dry place. Do Not Refrigerate.
©2016 New Chapter, Inc.
Caution: As with any dietary or herbal supplement, you should advise your healthcare practitioner of the use of this product. If you are nursing, pregnant, or considering pregnancy, you should consult your healthcare practitioner prior to using this product.
Wild Alaskan Salmon Oil, Oregano Sce, Rosemary Sce, Gelatin, Vegetable Glycerin, Purified Water Usp
Show more