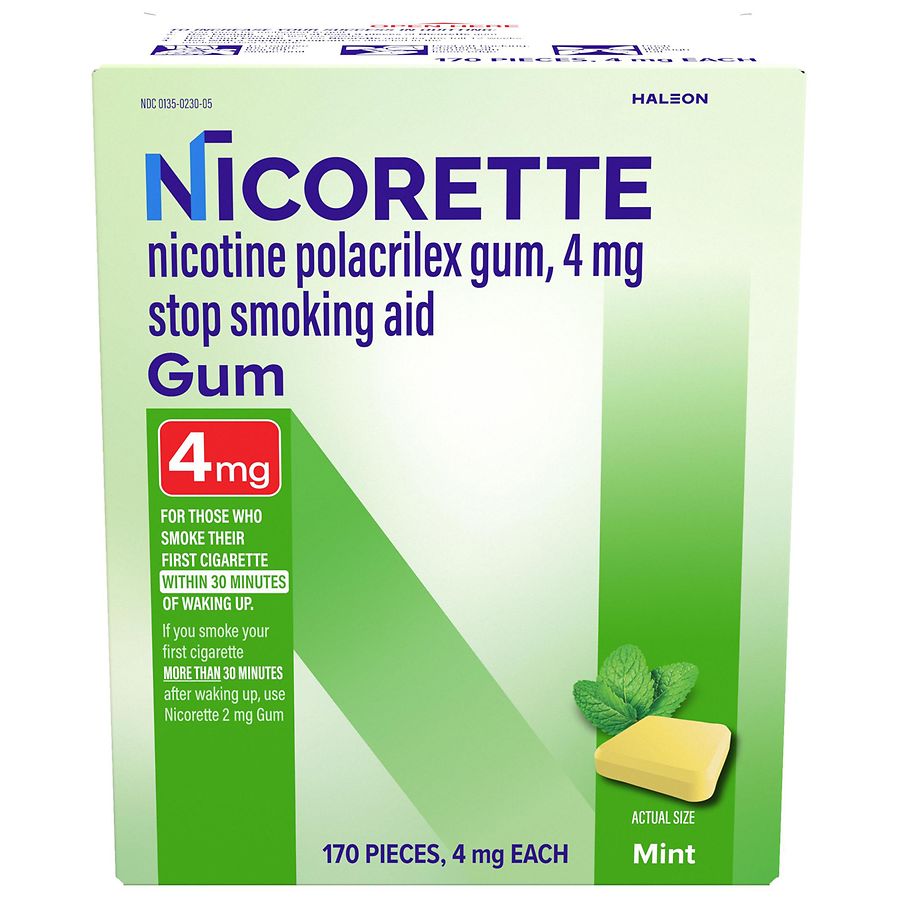 Nicorette Nicotine Gum, 4 mg Mint
170ea
4.5
Ship to home FREE at $35
|
Ship to Store FREE! Details
Eligible for Auto-Reorder & Save
Details
Details
Quick view
Releases controlled amounts of nicotine

Helps double your chances of quitting

Promotes relief from cravings
"Nicorette Nicotine Gum calms cravings and reduces irritability and anxiety associated with quitting smoking. This stop smoking aid is specially formulated with nicotine to help reduce withdrawal symptoms and can help you quit your smoking habit. Nicotine gum is a form of nicotine replacement therapy that is effective for craving relief without needing a prescription.
Nicotine gum is the ideal quit smoking aid for smokers who:
Want a portable method of nicotine replacement therapy
Want to control their nicotine intake
Enjoy the option to use an extra piece of nicotine gum within the hour for strong or frequent cigarette cravings
Prefer to give their mouth the relief of chewing
Offered in the great-tasting Mint Nicorette flavor, the 4mg Nicorette Gum strength is recommended for smokers who smoke their 1st cigarette within 30 minutes of waking up. Nicorette Gum also allows users to chew a 2nd piece of nicotine gum within the hour if they are experiencing strong or frequent cigarette cravings. Smokers can utilize the "Chew and Park" method of nicotine gum. Chew the Nicorette Gum until you can feel a tingling sensation in your mouth. Then "park" the nicotine gum between your cheek & gums. Once the tingling sensation is almost gone, start chewing again. Repeat this for about 30 minutes until the tingle is gone."
Use this effective nicotine gum on a regular schedule to prevent cravings throughout the day
Provides nicotine to your system as a temporary aid to help you quit smoking by reducing nicotine withdrawal symptoms
Includes free access to Committed Quitters, an online resource that can give you an individualized stop smoking plan
Designed to allow your body to adjust to having less nicotine over a 12-week period through a gradual, step-down process
Start with at least 9 pieces of Nicorette a day
Made in Sweden
If you are under 18 years of age, ask a doctor before use:
Before using this product, read the enclosed User's Guide for complete directions and other important information
Begin using the gum on your quit day
If you smoke your first cigarette more than 30 minutes after waking up, use 2mg nicotine gum
If you smoke your first cigarette within 30 minutes of waking up, use 4 mg nicotine gum according to the following 12 week schedule: For weeks 1 to 6, 1 piece every 1 to 2 hours. For weeks 7 to 9, 1 piece every 2 to 4 hours. For weeks 10 to 12, 1 piece every 4 to 8 hours.
Nicotine gum is a medicine and must be used a certain way to get the best results
Chew the gum slowly until it tingles. Then park it between your cheek and gum. When the tingle is gone, begin chewing again, until the tingle returns.
Repeat this process until most of the tingle is gone (about 30 minutes)
Do not eat or drink for 15 minutes before chewing the nicotine gum, or while chewing a piece
To improve your chances of quitting, use at least 9 pieces per day for the first 6 weeks if you experience strong or frequent cravings, you may use a second piece within the hour. However, do not continuously use one piece after another since this may cause you hiccups, heartburn, nausea or other side effects.
Do not use more than 24 pieces a day
It is important to complete treatment. If you feel you need to use the gum for a longer period to keep from smoking, talk to your health care provider. To remove gum, tear off single unit. Peel off back, starting at corner with loose edge. Push gum through foil. Protect from light. Store at 20-25 degrees C (68-77 degrees F). Store at 20-25 degrees C (68-77 degrees F).
© 2016 GSK
Warnings
If you are pregnant or breast-feeding, only use this medicine on the advice of your health care provider. Smoking can seriously harm your child. Try to stop smoking without using any nicotine replacement medicine. This medicine is believed to be safer than smoking. However, the risks to your child from this medicine are not fully known.
Ask a doctor before use if you have:
A sodium-restricted diet
Heart disease, recent heart attack, or irregular heartbeat. Nicotine can increase your heart rate.
High blood pressure not controlled with medication. Nicotine can increase blood pressure.
Stomach ulcer or diabetes
History of seizures
Ask a doctor or pharmacist before use if you are:
Using a non-nicotine stop smoking drug
Taking a prescription medicine for depression or asthma. Your prescription dose may need to be adjusted.
Stop use and ask a doctor if:
Mouth, teeth or jaw problems occur
Irregular heartbeat or palpitations occur
You get symptoms of nicotine overdose such as nausea, vomiting, dizziness, diarrhea, weakness and rapid heartbeat
You have symptoms of an allergic reaction (such as difficulty breathing or rash)
Keep out of reach of children and pets. Pieces of nicotine gum to make children and pets sick. Wrap used pieces of gum in paper and throw away in the trash. In case of overdose, get medical help or contact a Poison Control Center right away.
Reduces withdrawal symptoms, including nicotine craving, associated with quitting smoking
Ingredients
Active Ingredients:
Nicotine Polacrilex (equal to 4mg nicotine) (Stop smoking aid)
Inactive Ingredients:
Acesulfame Potassium, Gum Base, Magnesium Oxide, Menthol, Peppermint Oil, Sodium Bicarbonate (Baking Soda), Sodium Carbonate, Xylitol
Customers who bought this also bought...