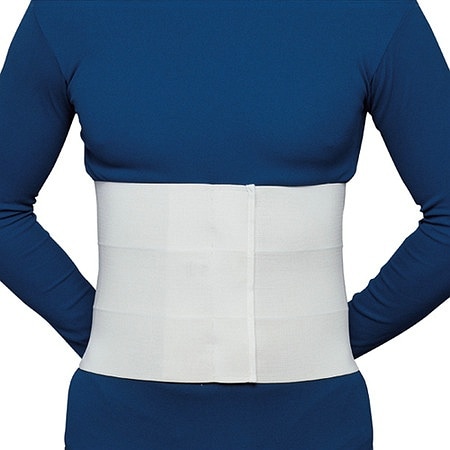 OTC Professional Orthopaedic Three-Panel Elastic Abdominal Binder for Men White
1.0 ea.
Quick view
For post-surgical dressings
Supports weakened abdominal muscles
Lightweight and comfortable
Engineered for performance and comfort.
This lightweight elastic binder has a variety of applications. Its most common use is as an abdominal binder for post-surgical dressings. It is effective in supporting abdominal organs when there has been a loss of muscle tone. The hinged design allows it to conform readily to body contours.
Yielding yet sturdy 9" wrap-around elastic applies gentle support to weakened muscles
Assembled horizontally to form 3 sections, conforms readily to body contours
Hook and pile fastening allows for quick and easy adjustment
Lightweight and comfortable
Inconspicuous under clothing
Medium fits abdomen 33.0 - 36.0 in (83.8 - 91.4 cm)
To select the perfect size measure around the fullest part of the abdomen. Easy to apply: Apply in a standing position. Position binder over abdominal area. Pull the side with the loop fastener until snug, then overlap the hook fastener on top of it. Readjust for comfort. Care: Fasten hook and pile closures. Hand wash garment in cold water with a mild soap. Rinse thoroughly until water is clear. Wrap in towel to remove excess water. Air dry away from heat. (Do not twist or wring.) Do not tumble dry.. © 2012 Surgical Appliance Industries