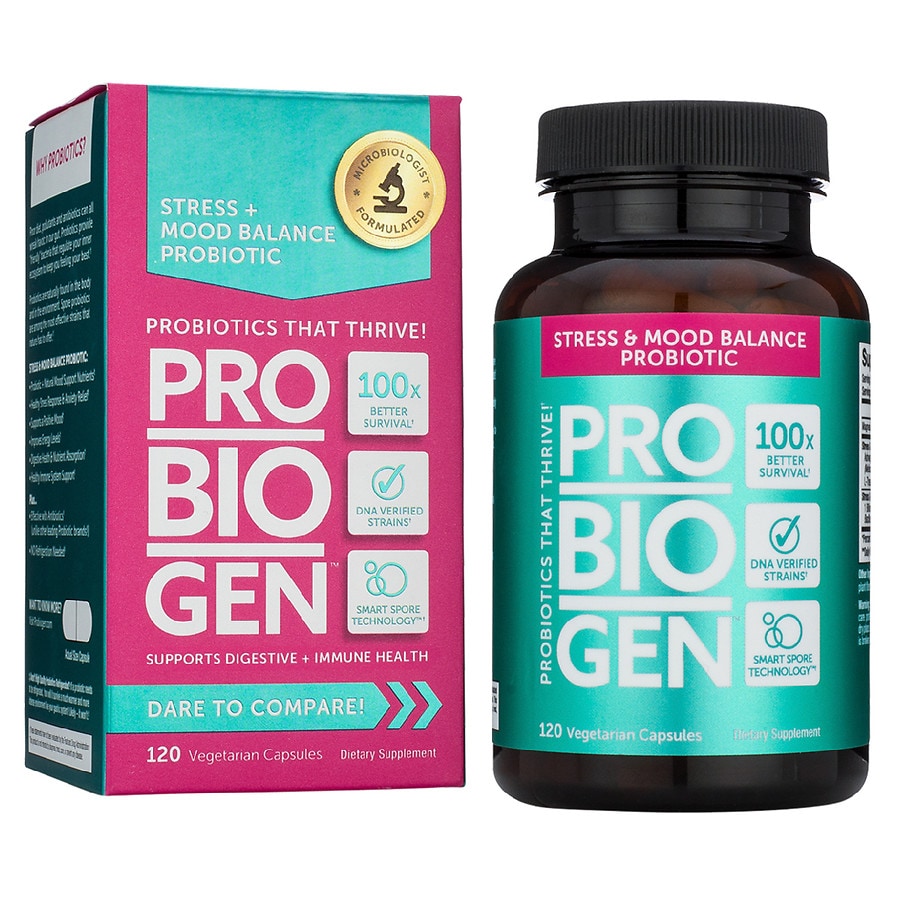 Probiogen Stress & Mood Balance Probiotic Vegetarian Capsules
120.0 ea
Online and store prices may vary
Probiotics that thrive!
100x better survival*
DNA verified strains*
Smart Spore technology
Supports digestive + immune health*
Dare to compare!
Survives 100x better vs. yogurt and other leading brands.** With probiotics, it's quality over quantity. Many leading brands with up to 200+ billion CFUs only guarantee potency at the time of manufacture. Probiogen provides live, viable CFUs that live and thrive in the gut, colonizing to provide true benefits when you need them most. Feel the Probiogen difference!
Smart Spore technology: Spores are nature's best probiotics. Unlike other popular strains, spore-formers make it past the harsh gastric system to colonize in the gut for better digestive and overall health.* Microbiologist formulated.
Contains no GMO, dairy, wheat, gluten, salt, sugar, soy, artificial colors or flavors, binders, fillers or flow agents. Supports digestive + immune health.* Probiotic + natural mood support.* Healthy stress response and anxiety relief.* Supports a positive mood.* Improves energy levels.* Effective with antibiotics* (unlike other leading probiotic brands).
Why probiotics? Poor diet, pollutants and antibiotics can all wreak havoc in our gut. Probiotics provide "friendly" bacteria that regulate your inner ecosystem to keep you feeling your best.* Probiotics are naturally found in the body and in the environment. Spore probiotics are among the most effective strains that nature has to offer.*
**Complete study available at probiogen.com
1-800-983-2930
*These statements have not been evaluated by the Food and Drug Administration. This product is not intended to diagnose, treat, cure or prevent any disease.
Take two (2) capsules twice daily after a meal or as directed by your physician. No refrigeration needed.** **Aren't high quality probiotics refrigerated? If a probiotic needs to be refrigerated, how will it survive a much warmer and more intense environment like your gastric system? Likely it won't.* © Probiogen