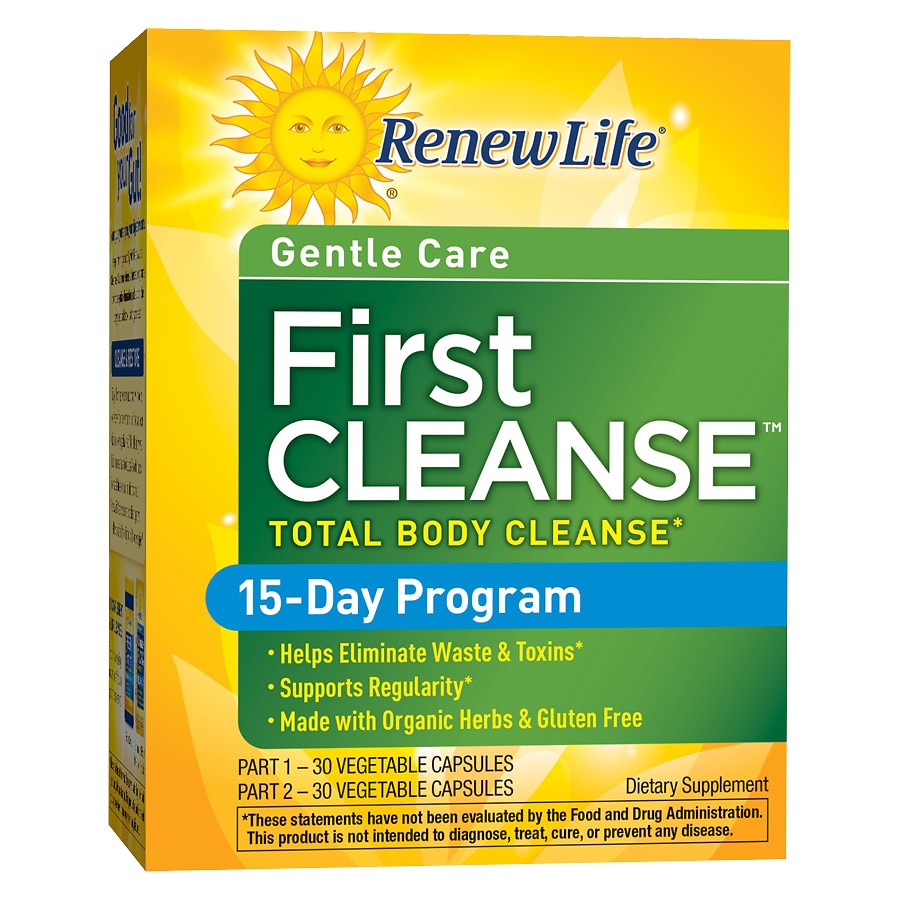 ReNew Life First Cleanse Dietary Supplement Capsules
60.0 ea
3.6
(6)
Quick view
Helps eliminate toxins

Restores vibrant health & energy
Gentle colon cleanse with fiber
No artificial ingredients
Total Body Cleanse*
15-Day Program
Helps Eliminate Waste & Toxins*
Supports Regularity*
Part 1 – Morning Formula 30 Vegetable Capsules
Part 2 – Evening Formula 30 Vegetable Capsules
Gluten Free
Soy Free
Organic
1-800-830-1800

*These statements have not been evaluated by the Food and Drug Administration. This product is not intended to diagnose, treat, cure or prevent any disease.
Morning formula: Take 2 capsules each day in the morning on an empty stomach.
Evening formula: Take 2 capsules each day in the evening.
Store in a dry place at 59-86°F (15-30°C).
©ReNew Life Formulas
Keep out of reach of children.
Do not use this product if you are pregnant or nursing. Consult your healthcare professional before using this or any product if you are trying to conceive, taking medication, or have a medical condition. Not for prolonged use. Do not exceed recommended amount. Notice: Do not use if gastritis, gastric or duodenal ulcer, or bowel obstruction are present. Discontinue use if abdominal pain, nausea, or vomiting occur, unless directed by your healthcare professional. Notice for Part 2: This product contains rhubarb and buckthorn. Do not use if you have or develop abdominal pain, diarrhea or loose stools. Read and follow directions carefully.
Gentle Care First Cleanse Dietary Supplement Capsules
Serving Size
Serving Per Container
Amount per Serving
%DV
Organic Herbal Blend
1300mg
Organic PhytoSorb Blend
190mg
Organic Elimination Blend
1300mg
Organic Digestive Blend
190mg
Burdock Root - Organic Herbal Blend
0units
Dandelion Root - Organic Herbal Blend
0units
Fenugreek Seed - Organic Herbal Blend
0units
Garlic Bulb - Organic Herbal Blend
0units
Kelp - Organic Herbal Blend
0units
Dandelion Leaf - Organic Herbal Blend
0units
Milk Thistle Seed - Organic Herbal Blend
0units
Turmeric Root - Organic Herbal Blend
0units
Artichoke Leaf - Organic Herbal Blend
0units
Blessed Thistle Herb - Organic Herbal Blend
0units
Echinacea Angustifolia Herb - Organic Herbal Blend
0units
Green Tea Leaf - Organic Herbal Blend
0units
Hawthorn Berry - Organic Herbal Blend
0units
Horsetail Herb - Organic Herbal Blend
0units
Mullein Leaf - Organic Herbal Blend
0units
Nettle Leaf - Organic Herbal Blend
0units
Oat Straw - Organic Herbal Blend
0units
Oregano Leaf - Organic Herbal Blend
0units
Parsley Leaf - Organic Herbal Blend
0units
Red Clover Herb - Organic Herbal Blend
0units
Wormwood Herb - Organic Herbal Blend
0units
Yarrow Herb - Organic Herbal Blend
0units
Yellow Dock Root - Organic Herbal Blend
0units
Fennel Seed - Organic PhytoSorb Blend
0units
Ginger Root - Organic PhytoSorb Blend
0units
Papaya Leaf - Organic PhytoSorb Blend
0units
Cayenne Pepper - Organic PhytoSorb Blend
0units
Coriander Seed - Organic PhytoSorb Blend
0units
Cumin Seed - Organic PhytoSorb Blend
0units
Gentian Root - Organic PhytoSorb Blend
0units
Black Pepper - Organic PhytoSorb Blend
0units
Peppermint Leaf - Organic PhytoSorb Blend
0units
Spearmint Leaf - Organic PhytoSorb Blend
0units
Flax Seed - Organic Elimination Blend
0units
Buckthorn Bark - Organic Elimination Blend
0units
Marshmallow Root - Organic Elimination Blend
0units
Rhubarb Root - Organic Elimination Blend
0units
Triphala - Organic Elimination Blend
0units
Slippery Elm Bark - Organic Elimination Blend
0units
Fennel Seed - Organic Digestive Blend
0units
Ginger Root - Organic Digestive Blend
0units
Papaya Leaf - Organic Digestive Blend
0units
Cayenne Pepper - Organic Digestive Blend
0units
Coriander Seed - Organic Digestive Blend
0units
Cumin Seed - Organic Digestive Blend
0units
Gentian Root - Organic Digestive Blend
0units
Black Pepper - Organic Digestive Blend
0units
Peppermint Leaf - Organic Digestive Blend
0units
Spearmint Leaf - Organic Digestive Blend
0units
Chebulic Myrobalan Fruit - Triphala
0units
Amla Fruit - Triphala
0units
Belleric Myrobalan Fruit - Triphala
0units