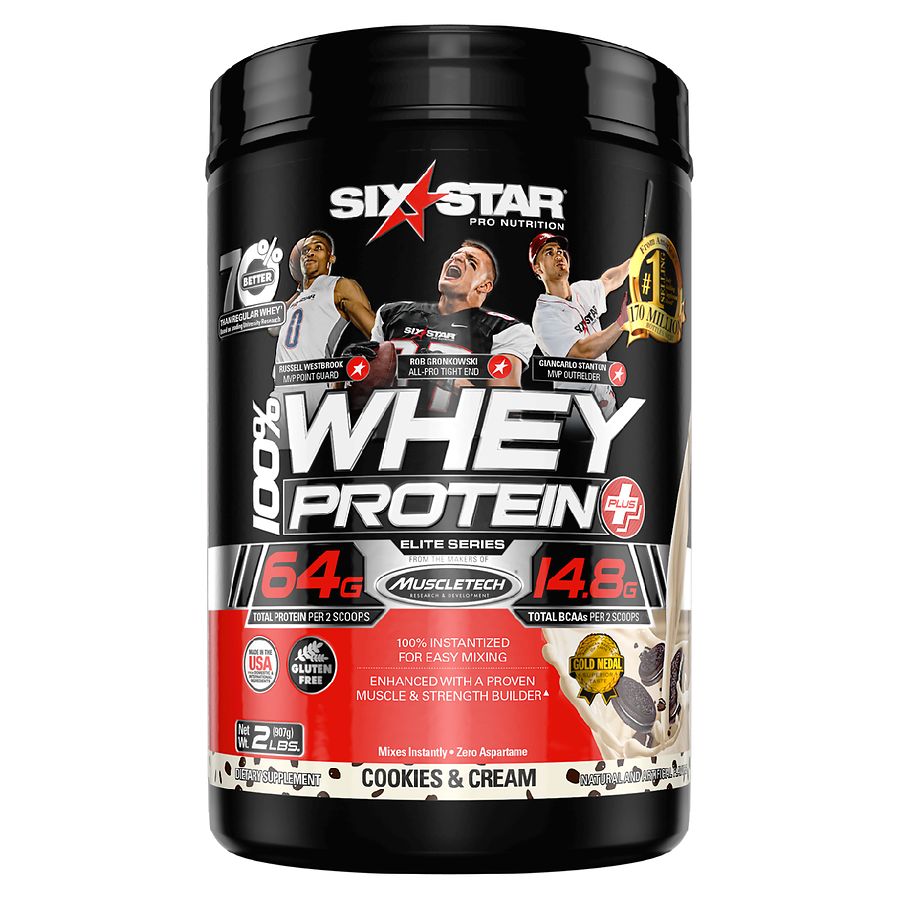 Six Star Whey Protein Plus, Elite Series Cookies & Cream
2.0 lb
4.9
(12)
$25.99
Savings:$6.00 (23%)
Online and store prices may vary
Frequently bought with...
---
Quick view
Builds lean muscle and strength fast
High quality 100% whey protein
Easy to use, for daily use
Leader in science: a portion of every dollar to more research. Six Star Whey Protein Plus is manufactured according to cGMP standards, as is required for all dietary supplements. Why Six Star Whey Protein Plus is the smarter choice – 70% better than regular whey.+ Six Star Whey Protein Plus is from the makers of MuscleTech, America's #1 selling body building supplement brand, so you know it's a powerful formula you can trust. Not all protein supplements are created equal. Six Star Whey Protein Plus is enhanced with core ingredients clinically shown to build 70% more muscle and strength than Whey Protein alone. And unlike cheaper formulas, Six Star Whey Protein Plus is powered primarily by ultra-filtered and instantized protein for fast absorption and easy mixing. Trust Six Star Whey Protein Plus for the best formula, best taste and best results! Who is Six Star Whey Protein Plus for?
Active men & women
Strength trainers
Athletes
Fitness enthusiasts
Body builders
Endurance athletes
What are the benefits of Six Star whey protein Plus? Mixes easily for your convenience Enhanced with a clinically proven muscle builder for the better results* Provides fast-absorbing BCAAs (leucine, isoleucine and valine) Improves muscle performance in athletes* Features ultra-pure and instantized protein. Boosts strength for better workouts.* Ultra-filtered whey to reduce fat, lactose and impurities. Helps you recover after workouts.* 70% better than regular whey protein for gains in lean muscle. Award-Winning taste you will love. The American masters of taste, a prestigious panel of chefs and flavor experts, awarded Six Star Whey Protein Plus the gold medal for superior taste against all other value brands in America. Trust Six Star Whey Protein Plus for optimum performance and award-winning taste you'll love.
For best results, stack with: Pre use 30 to 45 minutes before workout. Pre-workout powder engineered to enhance muscle performance, increase energy, and get you pumped while you train. Post use immediately after workout. Post-workout creatine supplement designed to build muscle, boost strength and enhance muscle performance.*
New Look Same Great Formula
From America's #1 Selling Body Building Supplement**
American Masters of Taste Gold Medal Superior Taste From the Markers of Muscle Tech Research & Development
Based on Leading University Research 70% Better than Regular Whey¹
Mixes Instantly
Elite Series
20 Years of Excellence
Leader in Science A Portion of Every Dollar to More Research
Russell Westbrook All-Star Pro Point Guard
Rob Gronkowski All-Pro Tight End
Giancarlo Staton All-Star Outfielder
Natural and Artificial Flavors
Scientifically shown to be 70% better than regular whey+
Enhanced with a proven muscle & strength builder*
Delivers 37g of BCAAs.
Essential amino acids, leucine, glutamine & precursors**
Low in fat
Results based on core ingredient testing
Total 60g protein per 2 scoops
This product contain 2.5g of creatine per serving, which is in addition to the 30g of protein per serving shown in the supplement facts creatine in combination with whey protein has been clinically shown in a published study in the international journal of sport nutrition and exercise metabolism to be more effective for building muscle than just whey protein alone.
**Per scoop
+In a six-week, double-blind study involving 36 test subjects with a least three years of weight-training experience divided into three groups, subjects combining the core ingredients in Six Star whey protein plus with a weight-training program gained 70% more lean muscle than subjects using regular whey protein (8.8 vs. 5.1 lbs.) and increased their bench press more than subjects using regular whey protein (34 vs. 14 lbs.). These same subjects even gained 4 times the lean muscle as subject using a placebo (8.8 vs. 2.0 lbs.). This formula provides 30g of protein from ultra-pure protein. Plus, it delivers creatine, leucine, isoleucine, valine and glutamine.*
Muscle Tech is America's #1 Selling Body Building Supplement Brand based on cumulative wholesale dollar sales 2001 to present.
Made in UNITED STATES
760-737-7995

*These statements have not been evaluated by the Food and Drug Administration. This product is not intended to diagnose, treat, cure or prevent any disease.
How to make the perfect whey protein shake: Stir, Shake, Blend Tip: Try blending with ice, your favorite fruit, juice, peanut butter or anything else you enjoy for a delicious smoothie.¿ Directions: Mix 1 to 2 servings (1 to 2 scoops) in 6 to 12 oz. of cold water or skim milk, according to taste, in a glass or shaker cup. Use between major meals and before and after exercise. For maximum results, take 5 servings (5 scoops) per day. Drink 8 glasses of water daily for general good health. Read the entire label before use and follow directions provided. Shake container before use. Store in cool, dry place (60°F to 80°F).
This product is sold by weight, so some settling may occur.
©2015
Use this product as a food supplement only. Do not use for weight reduction.
100% Whey Protein Plus Blend (Whey Protein Concentrate, Whey Protein Isolate, 97% Whey Protein Isolate, Hydrolyzed Whey Protein, L-Leucine, L-Isoleucine, L-Valine, L-Glutamine), Maltodextrin, Natural, Artificial Flavors, Cookie Crumb Pieces (Rice Flour, Sugar, Cocoa [Processed With Alkali], Tapioca Starch, Palm Oil, Corn Starch, Natural Flavors, Salt, Sodium Bicarbonate, Soy Lecithin), Calcium Carbonate, Soy Or Sunflower Lecithin, Gum Blend (Cellulose Gum, Xanthan Gum, Carrageenan), Sucralose, Acesulfame-Potassium
Show more
Customers who bought this also bought
...