Walgreens Historical Highlights

Charles R. Walgreen Sr. purchased the Chicago drugstore where he had worked as a pharmacist - and that started the Walgreen chain. His energy and enthusiasm soon led to new ideas and ambitious expansion. For example, he manufactured his own line of drug products to ensure high quality and low prices.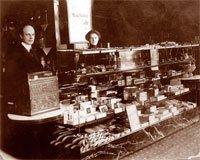 The second Walgreen store opened.
Nine stores incorporated as Walgreen Co.
Walgreens invented the malted milkshake. Customers stood three and four deep around the soda fountain to buy the "double-rich chocolate malted milk."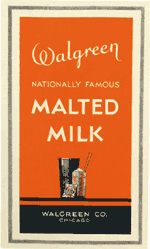 The 100th store opened in Chicago.
Walgreen Co. stock went public.
Walgreens helped celebrate Chicago's World Fair. The company opened four stores on the Century of Progress fairgrounds. These stores experimented with advanced fixture design, new lighting techniques and colors - ideas that helped modernize drugstore layout and design.
Charles Walgreen Sr. died and Charles Walgreen Jr. became the company's president.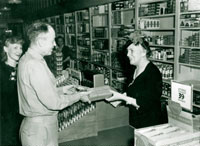 The company opened a nonprofit 6,000-foot drugstore in the Pentagon. All the profits from the store went to the Pentagon Post Restaurant Council, which supervised food service in the complex. The store operated into the 1980s.
Walgreens acquired its first foreign property when the company bought the Mexican retailer Sanborn's. In 1984, the company sold Sanborn's.
Walgreens began to build self-service instead of clerk service stores in the Midwest. By 1953, Walgreens was the largest self-service retailer in the country.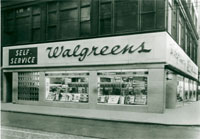 Walgreens entered the Puerto Rico market.
Walgreens filled its 100 millionth prescription, far more than any drug chain at that time.
Walgreens became the first major drug chain to put its prescriptions into child-resistant containers, long before it was required by law.
Charles Walgreen III became the company's president.
Walgreens reached $1 billion in sales.
The first Intercom computers were installed in five Walgreen pharmacies in Des Moines, Iowa. This was the initial step toward making Walgreens the first drugstore chain to connect all its pharmacy departments via satellite.
Next-day photofinishing became available chainwide.
Walgreens opened its 1,000th store, at 1200 N. Dearborn in Chicago.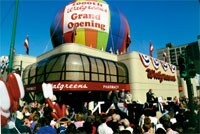 In November, the chain completed installation of point-of-sale scanning to speed checkouts.
Walgreens opened its first drugstore with a drive-thru pharmacy.
The 2,000th store opened in Cleveland.
Intercom Plus, Walgreens advanced computer system, completed rollout to all stores. Intercom Plus speeds the prescription-filling process, permits better patient counseling and is the leading pharmacy system in the industry.
Walgreens.com launched a comprehensive online pharmacy, offering customers a convenient and secure way to take care of many pharmaceutical and healthcare needs online. Charles Walgreen III retired as chairman of the company.
Walgreens reached the 3,000-store mark when its location at Halsted and Monroe in Chicago opened.
Walgreens celebrated its centennial in June and rang the opening bell at the New York Stock Exchange.
Walgreens became the first drugstore chain to offer prescription labels in multiple languages chainwide. Today, labels can be printed in one of 14 languages _ Arabic, Chinese, French, German, Italian, Japanese, Korean, Polish, Portuguese, Russian, Spanish, Tagalog, Vietnamese and English.
Walgreens reached the 4,000-store mark when its location at Coldwater Canyon Avenue and Magnolia Boulevard in Van Nuys, Calif., opened in March.
Walgreens opened its 5,000th store in Richmond, Va., in October.
In July, Walgreens acquired Happy Harry's drugstore chain, adding 76 stores, primarily in Delaware. In the fall, Walgreens began offering in-store health clinics, today called Healthcare Clinic, with nurse practitioners treating walk-in patients for common ailments. During 2006, clinics opened in St. Louis, Kansas City, Chicago and Atlanta.
Walgreens acquired Take Care Health Systems. In the summer of 2007, Walgreens acquired Option Care, a network of more than 100 pharmacies (including more than 60 company-owned) in 34 states, providing a full spectrum of specialty pharmacy and home infusion services. In the fall of 2007, Walgreens opened its first store in Hawaii in Honolulu and celebrated the opening of its 6,000th store in New Orleans.
Walgreens completed its acquisitions of worksite health care providers I-trax/CHD Meridian Healthcare and Whole Health Management.
Walgreens opened its first store in Alaska, marking its presence in all 50 states. The company celebrated the opening of its 7,000th store nationwide with a grand opening in Brooklyn, N.Y. Walgreens offered H1N1 vaccinations at all of its pharmacies and clinics nationwide to fight the flu pandemic.
Charles R. Walgreen III retired from the company's board of directors after 46 years of service. Walgreens completed its acquisition of the Duane Reade drugstore chain in New York. Walgreens opened its first Well Experience format stores in Oak Park and Wheeling, IL.
Walgreens completed its acquisition of online retailer drugstore.com. Walgreens introduced Web Pickup service in the Chicago area, combining the convenience of online shopping with its neighborhood stores. Duane Reade opened its flagship store at 40 Wall Street in Manhattan, NY. The company marked its continued commitment to sustainability with its 100th rooftop solar power system installation at a store in Mason, Ohio.
Walgreens debuted its Chicago flagship store, returning to the iconic shopping corner of State and Randolph in Chicago's Loop where it operated a store from 1926 to 2005. Walgreens completed its acquisition of Bioscrip's community specialty pharmacies and centralized specialty and mail service pharmacy businesses. Walgreens launched a new online "Find Your Pharmacist" tool that allows customers to select a pharmacist by matching their health care needs with the areas of expertise, specialties, languages and clinical backgrounds of Walgreens pharmacists. Walgreens and Alliance Boots announced they have entered into a strategic transaction to create the first global pharmacy-led, health and wellbeing enterprise.
Also, Walgreens opened its 8,000th store in Los Angeles.
On November 21, Walgreens opened what is believed to be the nation's first net zero energy store, anticipated to produce energy equal to or greater than it consumes, in Evanston, Illinois. The store sports two wind turbines, nearly 850 solar panels and a geothermal system burrowed 550 feet into the ground.
On December 31, Walgreens took its products and services to the four corners of the world with the completion of its merger with Alliance Boots, a leading international pharmacy-led health and beauty group. With the completion of the merger comes the formation of a new global company, Walgreens Boots Alliance, combining two leading companies with iconic brands, complementary geographic footprints, shared values and a heritage of trusted health care services through pharmaceutical wholesaling and community pharmacy care, dating back more than 100 years each.
Our commitment to diversity is built upon fairness, trust and honesty.
Visit our Diversity site to learn more

Once upon a time...
Learn how Charles Walgreen shook up the drugstore business


Reloadable Prepaid Debit Cards
The convenience of a MasterCard or Visa without the hassle of a credit check