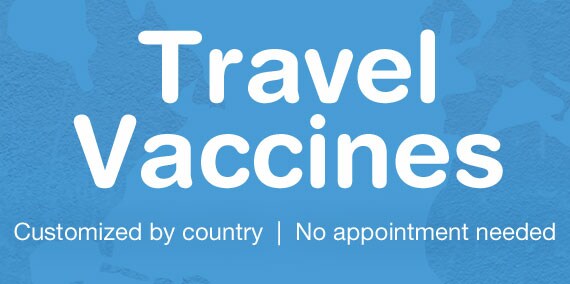 Walgreens can help you prepare for your next adventure.
Our pharmacists will recommend vaccines, prescriptions and over-the-counter medications based on your travel itinerary and health history.1
Where are you headed?
Based on your destination, we'll provide details on potential health and safety risks (such as food and water safety as well as insect precautions).
Do you know what vaccinations you'll need?
Our pharmacists will determine which vaccinations are recommended or required based on your travel itinerary.
What are your planned activities?
We'll tailor our consultation based on your medical history (including allergies and immunizations), accommodations and activities.
What are your current medications?
We'll work with your doctor so you have enough of your current prescriptions or obtain any necessary travel prescriptions for your trip.
Talk to a neighborhood pharmacist about your travel plans today.
1 Consultation fee is non-refundable and doesn't include immunizations, over-the-counter and prescription medications. Service is currently available only at select stores. Immunizations subject to availability; state, age and health condition-related restrictions may apply. See pharmacy for details. Travel consultation, immunizations, prescription medications and over-the-counter products each sold separately.
2 From September 1, 2016 to August 31, 2017, for every immunization administered, Walgreens will donate $0.22 to the United Nations Foundation, up to a maximum donation of $2,000,000. For more information, go to Walgreens.com/GetaShot. Vaccines subject to availability. State-, age- and health-related restrictions may apply.