Text alerts
Stay up to date on your prescriptions with Rx text alerts. We'll send you a text message when your prescriptions are ready for pickup!
Text JOINRX to 21525 to sign up1
Receive updates on your prescription's status
Learn your prescription's price before you pick up
Refill prescriptions by replying "Refill" to reminder texts
Para Español, envia AlertaRx por texto a 21525.1
Need an update on a prescription's status?
Even if you're not signed up for Rx text alerts, you can always text RXSTATUS to 21525 for immediate info on any of your in-progress prescriptions.1
Walgreens Express™
Save time and get your prescriptions even faster with a dedicated pickup line or next-day delivery.2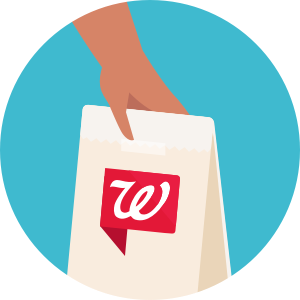 FAQ
What types of prescription status updates will I receive?
Can I choose what alerts I receive?
How do I refill by text?
How can I see the price of my prescription?
I signed up for Rx text alerts but am not receiving messages. How can I get help?
Why wasn't my prescription ready at the pharmacy after I received my text alert?
I used to receive Walgreens Express Pickup messages but have not recently. How do I enroll in Express Pickup to receive them every time?
How much does it cost to have my prescription delivered via Walgreens Express next day delivery?
Does texting RXSTATUS to 21525 sign me up for Rx text alerts?
Does Walgreens send Rx Alerts in any different ways?
Why am I receiving some texts in English when I am signed up for Spanish alerts? (¿Por qué estoy recibiendo algunos textos en inglés cuando estoy registrado para recibir alertas en español?)
Do I need a certain mobile carrier for Rx text alerts?
How do I opt out of receiving text alerts?
Walgreens Mobile Messaging Terms & Conditions
1 Message and data rates may apply. Ongoing texts may be sent using an automatic telephone dialing system. Consent not required for purchase. To opt out at any time, text the word STOP to 21525.
2 Most prescriptions orders available to be delivered to the patient's home by the next business day. Orders must be received by 4pm, Monday through Friday. Other restrictions apply. Some prescription benefit plans and insurance plans do not allow home delivery. For more details, talk to a Walgreens pharmacist.