Price and inventory may vary from online to in store.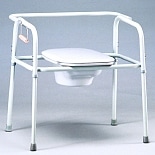 TFI Medical Bariatric Heavy Duty Commode with Elongated Seat (1 ea.)
Medline Deluxe Bariatric Steel Commode (1 ea)
Sale price is $89 and 99 cents

And Regular price is $139 and 99 cents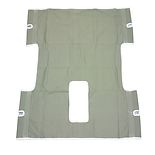 Drive Medical Bariatric Heavy Duty Canvas Sling with Commode Cutout White (1 ea)
Sale price is $91 and 99 cents

And Regular price is $99 and 99 cents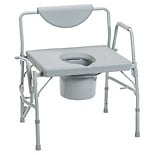 Drive Medical Bariatric Drop Arm Bedside Commode Seat Over Sized Heavy Duty (1 ea)
Sale price is $257 and 99 cents

And Regular price is $297 and 99 cents
Bariatric commodes
Our selection of bariatric commodes are built of durable frames to handle every day use. These heavy duty commodes can support up to 1000 pounds and feature drop arms and large seats to make going to the restroom easier. Some extra-large commodes even come with padded seats to improve comfort. Brands such as TFI Medical, Drive Medical and Nova offer bariatric commodes in various sizes, colors and types.
Comfortable home care
Select your bariatric commade based on your preferences and needs. As you shop, choose a commode that can adjust to your height requirements. You can always select your features based on convenience or preference. Different seat types include elongated seats and full-width seats. There is even a type of bariatric commode with a built-in toilet paper holder.
For safety, comfort and hygiene
Walgreens.com carries additional options that can make caring for yourself or a loved one easier. Browse bathroom safety products such as transfer benches for help getting in and out of the shower or tub. Bath safety mats can give you extra stability, as can grab bars. Hand held shower heads can make washing yourself or a patient easier. If showering isn't always an option, you can use no rinse soap and no rinse shampoo.