Price and inventory may vary from online to in store.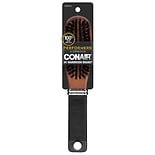 Conair Performers All Purpose 100% Boar Bristle Styling Brush (1 ea)
Boar bristle brushes
Made with naturally soft bristles, boar bristle brushes can gently detangle your hair for a healthy, smooth look. Different sizes and shapes of these hair brushes are available here at Walgreens.com from hair care brand Conair. You can choose your boar bristle brush based on your hair type and your styling needs.
The ideal brush for you
While some boar bristle brushes are made with only boar bristles, some also have plastic or synthetic bristles. These combination brushes can offer effective detangling for more coarse hair types. If you need daily detangling, choose a paddle brush or flat brush that's ideal for thick hair. For styling, there are round brushes made with boar bristles that can add volume and curl.
Detangling and styling
We carry other options for your hair care routine, including combs and detanglers. For both kids and adults, there are detangling conditioners as well as convenient sprays. You'll also find hair dryers and hot air stylers that you can use to create different looks for your hair. Browse our assortment of hair styling products that also includes curling irons, straightening irons and rollers in various sizes.