Price and inventory may vary from online to in store.
Crest 3D White Whitestrips Whitening + Therapy Teeth Whitening Kit, 14 Treatments (1 ea)
Sale price is $39 and 99 cents

And Regular price is $44 and 99 cents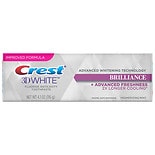 Crest 3D White Brilliance Teeth Whitening Toothpaste Mesmerizing Mint (4.1 oz.)
$
7
79
$7 and 79 cents
  $1.90

/ oz.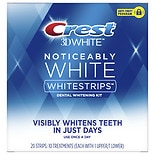 Crest Noticeably White Whitestrips Dental Whitening Kit (20 ea)
$
18
99
$18 and 99 cents
  $0.95

/ ea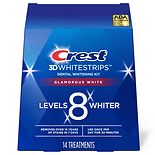 Crest 3D White 3D Whitestrips LUXE Glamorous White (14 ea)
Sale price is $39 and 99 cents

And Regular price is $41 and 99 cents
Crest Teeth Whitening
Having a brighter and whiter smile has never been easier. Rather than having to go see your dentist for a costly whitening treatment, you can now enjoy professional-quality results thanks to a variety of at-home treatments and products. Whether you want to brush your teeth with a whitening toothpaste or use whitening strips every day after you brush, you can find a number of ways to brighten your smile in an efficient and cost-effective manner. Crest, an industry leader in oral care products, offers an array of teeth whitening products available at Walgreens. Consider the type of products that best suit your lifestyle, evaluate what Crest has to offer, and choose the perfect teeth whitening treatment for you at Walgreens.
Teeth Whitening Choices
There's no shortage of teeth whitening products in Crest's expansive line at Walgreens. Multitaskers might enjoy the all-in-one benefits of a whitening toothpaste. Just as you're eliminating plaque from your teeth and freshening your breath while brushing, you can also whiten your teeth by reducing surface stains. Another efficient way of whitening your teeth with Crest products is with a whitening rinse, which can follow your daily brushing routine. This rinse eliminates surface stains and prevents future ones, paving the way to whiter teeth. You can enjoy a brighter smile after just two days of using this rinse. For a more intensive whitening treatment, Crest has several products available at Walgreens. The brand's well-known Whitestrips, which you wear for just 30 minutes every day, can deliver noticeably whiter teeth in 3 days and significant results in 20 days. In addition to whitening your teeth, these strips can clean and protect your smile as well. You can maintain your whiter teeth with touch-up strips, which you wear for just 5 minutes every day to reduce daily stains caused by coffee or smoking. Finally, if you're whitening your teeth for the first time, you might choose to invest in Crest's whitening kit, which provides you with the strips you need to brighten both your upper and lower teeth. No matter your teeth whitening needs, you can find the products you're looking for in Crest's line at Walgreens.