Price and inventory may vary from online to in store.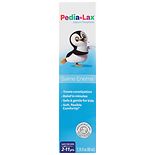 Fleet Pedia-Lax For Ages 2-11 Years Saline Laxative Enema (2.25 fl oz)
$
3
29
$3 and 29 cents
  $1.46

/ oz.
Fleet Enema
Constipation can cause painful cramps and discomfort, so try a Fleet enema to get relief fast. One of Fleet's most popular products is a saline laxative that comes in a ready-to-use bottle with a soft applicator tip to minimize discomfort. Each Fleet saline enema is latex-free, and each bottle has a one-way valve to prevent contamination. These features make the Fleet saline enema a safe and effective product to use when you experience occasional constipation.
Suppositories and oral laxatives
In addition to saline laxatives, try using suppositories and oral laxatives to relieve your constipation. Try an oral laxative if you are wary of enemas with rectal applications; simply take a small capsule to get fast and effective relief from the discomfort of constipation. Your other option is to try suppositories that are inserted directly into the rectum. Suppositories are a good option if you have recently undergone surgery and need to avoid straining when you use the restroom.