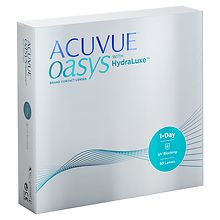 Acuvue Oasys 1-Day 90 pack
1.0 box
4.6
(44)
90 lenses per box
1 year supply = 8 boxes (4 per eye)
Acuvue
®
Oasys 1–Day 90 pack product details—
We all have those days that give us tired, heavy and dry eyes – but with Acuvue® Oasys 1–Day 90 pack you can't blame your contacts anymore. Whether you're busy gazing at digital devices or sitting in a challenging environment (or both) our contact lenses keep your eyes feeling fresh and comfortable. Plus these daily contacts are easy to handle and maintain and offer the highest level of UV blocking in a contact lens.
HydraLuxe– Technology keeps your eyes feeling comfortable throughout the day.
Tear-like properties work with your natural tear film each day providing all-day performance and excellent comfort, vision and handling.
Daily disposable contacts available in convenient 90-day packs.
Get the highest level of UV blocking¹ available in a daily disposable.
Acuvue® Oasys 1–Day 90 pack is available with correction for near and farsighted prescriptions.
©Vistakon Div of Johnson & Johnson