Save up to $5 on each Medicare Part D Prescription
when Walgreens is your Preferred Pharmacy1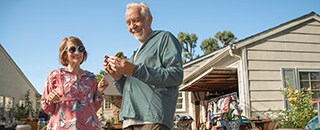 Medicare Part D
Save up to $5 on each Medicare Part D Prescription when Walgreens is your Preferred Pharmacy1
Overview
Get started with helpful info, savings tips, enrollment help and more
What is Medicare Part D?
Medicare Part D is the prescription drug plan part of Medicare.
Part A
Hospital Insurance
Part B
Medical Insurance
Part C
Medical Advantage or MA-PD
If you've been paying cash for prescriptions, Medicare Part D will save you money. Each Medicare Part D plan provides its own list of covered drugs, which is available through the plan's web site, customer service center and through marketing materials. You can also find information online at Medicare.gov.
Need help choosing a Medicare Part D plan?

Depending on where you live, there can be many Medicare Part D plans available to choose from. We've teamed up with eHealth, an independent, fully licensed health insurance brokerage to help make Medicare Part D enrollment easier.2
Compare Medicare Part D prescription drug plan quotes from insurance companies in your area for FREE*
Help in finding plans with the lowest out-of-pocket costs that fit your need
Learn how much you'll pay if, or when, you enter Part D coverage gap
Health answers nowChat online with a
pharmacy expert 24/7.

Chat now

FREE flu shots

no cost to you with most insurance.* Walk-ins welcome.

Get vaccinated
1 Copay savings based on filling a Tier 1 generic prescription at a Preferred Pharmacy compared to a Non-Preferred Pharmacy with select plans.
2 eHealth is a licensed insurance broker. No commissions are paid to Walgreens.
* Vaccines subject to availability. State-, age- and health-related restrictions may apply.

You'll now visit eHealth's site
If you choose to provide any information or use the tools, information and/or content hosted on this new site, it will not be covered by the Walgreens privacy and terms of use policies.