Price and inventory may vary from online to in store.
Clean & Clear Advantage Advantage Acne Control Moisturizer (4 fl oz)
$
7
79
$7 and 79 cents
  $1.95

/ oz.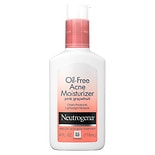 Neutrogena Oil-Free Acne Moisturizer Pink Grapefruit (4 fl oz)
$
8
99
$8 and 99 cents
  $2.25

/ oz.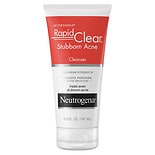 Neutrogena Rapid Clear Stubborn Acne Cleanser (5 oz.)
$
8
79
$8 and 79 cents
  $1.76

/ oz.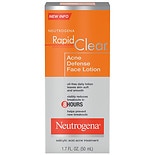 Neutrogena Rapid Clear Acne Defense Face Lotion (1.7 fl oz)
$
8
99
$8 and 99 cents
  $5.29

/ oz.
Vichy Normaderm Targeted Acne Treatment with Hyaluronic Acid and Salicylic Acid (1.69 oz.)
$
25
00
$25 and 00 cents
  $14.79

/ oz.
Cetaphil Derma Control Oil Control Moisturizer (4 fl oz)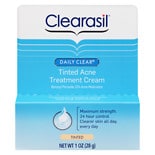 Clearasil Daily Clear Acne Treatment Cream, 10% Benzoyl Peroxide Medication Tinted (1 oz.)
$
6
79
$6 and 79 cents
  $6.79

/ oz.
No7 Beautiful Skin Day Cream, Normal / Oily (1.6 oz.)
$
14
99
$14 and 99 cents
  $9.37

/ oz.
Acne moisturizers
Acne moisturizers are a vital part of the cleansing process. This is simply because most acne treatment products are drying to the skin. When choosing the right moisturizer for your skin, make sure that it promotes a clear complexion; otherwise it may clog your pores if it has the wrong ingredients. Walgreens.com offers moisturizers from brands like Burt's Bees, Clearasil and Neutrogena.
Overnight face lotion
Some acne moisturizers are developed for use overnight for deep penetration. These night face creams are medicated so that you see and feel results by the next morning. These acne lotions are usually thick and when washed off, they can make your skin noticeably softer and brighter.
Daily moisturizing lotion
Daily acne moisturizers are safe enough to use on a daily basis. There daily moisturizing lotions are designed to control the amount of oil your skin produces while providing moisture. Some of the natural daily acne moisturizers contain ingredients such as witch hazel and lemongrass for the many benefits they offer to the skin. If you have acne on different areas of your body, you can use acne moisturizers that are designed for large areas of the body. Acne body lotion is designed to promote and maintain a clear complexion for your skin no matter where you choose to apply it.