Price and inventory may vary from online to in store.
Clean & Clear Advantage Advantage Acne Spot Treatment (1 fl oz)
$869
$8 and 69 cents
$11.59

/ oz.
AcneFree Terminator 10 Acne Spot Treatment with Benzoyl Peroxide (1 fl oz)
$729
$7 and 29 cents
$7.29

/ oz.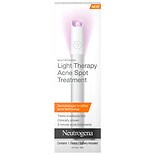 Neutrogena Light Therapy Acne Spot Treatment (1 ea)
$2669
$26 and 69 cents
$26.69

/ ea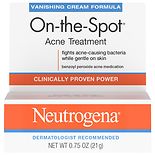 Neutrogena On-The-Spot Acne Treatment With Benzoyl Peroxide (.75 oz.)
$869
$8 and 69 cents
$11.59

/ oz.
Acne spot treatment
Nothing can ruin your complexion like blemishes and pimples. Luckily, there are acne medications, such as acne spot treatments, to help quickly reduce the redness and severity of pimples when you need it most. Choose a spot treatment from acne care brands Neutrogena, Clean & Clear and Oxy to banish blemishes and support a healthy complexion overall. Walgreens.com carries a variety of pimple and pore cleansing products to meet your needs, from overnight treatments to natural acne spot treatments that won't cause irritation.
Acne cleansers and creams
Clean skin helps lead to clear skin, so choosing an
acne wash
is important in
acne treatment
. At Walgreens.com, you'll find
face cleansers
that decrease the bacteria that clogs pores and causes breakouts. You'll also find
acne creams
for regular use, and some that are even tinted to match skin tone. For total facial care, choose a breakout treatment system that incorporates all of the steps into one convenient kit.