Price and inventory may vary from online to in store.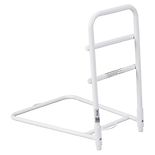 Drive Medical Home Bed Assist Rail (1 ea)
Sale price is $63 and 99 cents

And Regular price is $64 and 99 cents
Adult bed rails
If you need assistance getting in and out of bed, adult bed rails can help. These assist rails are made to offer stability, so you can move and adjust independently and safely. Some of these rails, such as safety bed rails, can also prevent falling out of bed overnight. Bed assist rails are either supported by the floor, attached between your mattress and box spring, or stabilized by both. Here at Walgreens.com, you'll find adult bed rails from brands Standers, Drive Medical, Nova, TFI Medical and more.
Stay safe
Adult bed rails come in a range of sizes and shapes with multiple features to choose from. Some home bed rails work on either side of the bed and are portable so you can take them with when you travel. Bed safety rails come in different colors and some are adjustable to fold down to make it easy to change the sheets. There are even bed assist bars that include pockets for books or remote controls, or are padded for comfort.
Shop our patient care products
The home medical section at Walgreens.com has equipment and products to help make many of your daily tasks easier. Find medical nutrition, diabetes and incontinence products to assist daily living. Home care solutions for bathroom safety, mobility and bariatric crutches can help you keep your independence. Patient care products for cleansing and wound care as well as equipment and scrubs can ensure a smoother recovery.