Price and inventory may vary from online to in store.
OTC Professional Orthopaedic Canvas Ankle Splint (1 ea.)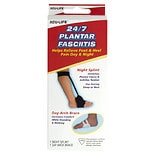 Acu-Life 24/ 7 Plantar Fasciitis Night Splint and Day Arch Brace (1 ea)
Ankle Splints
Ankle splints offer support when you have an ankle sprain, injury or sore ankle. Be sure to see your doctor if you have an injury and ask if ankle splints can benefit you. At Walgreens, we offer a variety of splints that fit comfortably around your ankle when you're out and about, playing sports and going about your daily activities.
Lace-Up Ankle Splints
Canvas ankle splints that lace up like a shoe offer firm ankle support combined with comfort. Some come with metal stays to limit side-to-side ankle movement when you walk. The compression provided by these splints can help stabilize the ankle and help reduce ankle swelling and discomfort. Doctors sometimes recommend lace-up splints to patients who have an ankle injury or have undergone ankle surgery. Lace-up ankle splints come in a variety of sizes to conform to different foot and ankle sizes.
Ankle Splints for Nighttime Use
Night splints can help provide support for ankles, feet and legs even as you sleep. These splints are designed to hold your foot in a supportive position throughout the night in order to reduce pain and soreness. Lined with foam padding, night splints are intended to fit comfortably against your foot, ankle and leg so you can rest peacefully during the night. Doctors sometimes recommend night splints for foot, ankle and leg problems like plantar fasciitis and tendonitis.
Compression Supports
Ankle compression supports can offer light support for sore or injured ankles. This style of ankle support is designed to lightly compress an injured or sore ankle to reduce swelling while keeping the ankle and foot warm and comfortable. Compression supports are available in materials that stretch four ways for maximum fit and comfort. Choose from supports made of various materials that allow for the skin to breathe. You can find options that are latex-free. Ankle compression supports are available in various sizes including small, medium, large and extra-large.