Price and inventory may vary from online to in store.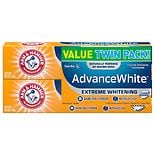 Arm & Hammer Extreme Whitening Toothpaste Clean Mint (6 oz.)
Arm and Hammer toothpaste
Known for more than a century and a half as producers of baking soda, the famed Arm & Hammer Company has also been producing a line of toothpastes for over 50 years. Toothpaste and baking soda? It's a great match! Baking soda has been known for years for its healthful qualities, particularly in tooth and gum care. The present line of Arm & Hammer toothpastes offers a wide range of care choices for every need, from advanced cleaning, whitening and enamel strengthening to helping address sensitive teeth. The formulas contain baking soda, of course, which adds a special dimension to these toothpastes. Baking soda is an excellent way to gently but effectively remove the sticky plaque from teeth - an important part of oral care is to prevent tooth decay. The same polishing action also helps remove stains and yellowing that can be caused by some beverages and foods. Because baking soda is non-toxic, it can be used every day with confidence.
Baking soda, plus more
Feel clean and fresh while you protect your teeth against cavities with the fluoride formulas of Arm & Hammer toothpaste. For sensitive teeth, a formula with a 5% concentration of potassium nitrate, an effective ingredient for addressing this condition, is also available. To help strengthen the important enamel layer of teeth, Arm & Hammer offers toothpaste with extra calcium. The fresh mint taste will make tooth brushing a pleasure. All of this and baking soda, too - its mild but effective polishing action is only one of its benefits. Just as baking soda in the refrigerator helps to absorb odors, the same effect can help neutralize odor-causing acids in your mouth by restoring mouth tissues to their proper pH levels. These toothpastes formulated with baking soda help to neutralize the acids in the mouth that are a leading cause of tooth decay. It also helps to neutralize the volatile conditions created in the mouth, which cause bad breath and have been linked to gum disease. The multi-action formulas in the line of Arm & Hammer toothpaste offer a way to keep your teeth clean, strong and sparkling white.