Price and inventory may vary from online to in store.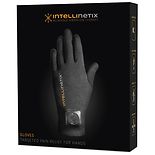 Intellinetix Vibrating Gloves Black (1 ea)
$11900
$119 and 00 cents
$119.00

/ ea
Arthritis Gloves
Warm your hands and alleviate pain and discomfort with arthritis gloves. These convenient gloves are recommended by doctors as a way to combat swelling you may experience due to arthritis. Therall, IMAK and OTC are among the most popular glove brands available, each of which incorporates proven technology into its products to ensure your comfort. You may also want to consider using an arthritis hand brace, which provides support and can help you cope with your arthritic pain.
Choosing the right gloves
With so many brands on the market, you may feel confused as to which gloves are the best match for your arthritis. Both IMAK and Therall are great options to consider, with many physicians recommending these brands to their patients. In addition to choosing a trusted brand, you should be certain to purchase the right size for your hands.This helps ensure the product works as intended.