Price and inventory may vary from online to in store.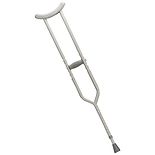 Drive Medical Bariatric Heavy Duty Walking Crutches Adult (1 pr)
Sale price is $101 and 99 cents

And Regular price is $119 and 99 cents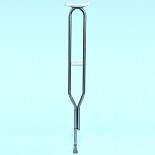 TFI Medical Bariatric Heavy Duty Crutches, Tall Adult (1 pr)
Bariatric crutches
You want to get around more freely without risking your safety. Bariatric crutches are built with durable metal to support up to 500 pounds. These heavy duty crutches are the traditional crutch style and shape, but can offer added mobility to larger individuals. Bariatric crutches also come as tall crutches, so it can be easy to find a pair that is the right height. Shop our selection of steel crutches from brands TFI Medical, Nova and Drive Medical.
Improve your mobility
Walking aids such as bariatric crutches are one example of the range of sizes and styles of mobility devices available to help you get around more freely. There are bariatric walkers, canes and rolling walkers as other options. You can also find other heavy duty home medical products designed to offer maximum support such as bariatric shower chairs transfer benches & boards, commodes and bath benches.
Off you go
You can find accessories for crutches here including soft underarm pads and non-slip handgrips for added comfort. In addition, Walgreens.com has an entire section dedicated to home medical products from bathroom safety to wound care, medical hosiery to braces and supports. Mobility devices in particular range from medical transport chairs, walkers and wheelchairs to canes and scooters. We even carry accessories for most of these items, including cane tips, walker glides, and scooter accessories.