Price and inventory may vary from online to in store.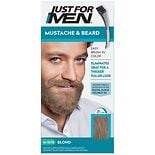 Just For Men Brush-In Color Gel for Mustache & Beard M-10/ 15 Blond (1 ea)
$
9
99
$9 and 99 cents
  $19.98

/ oz.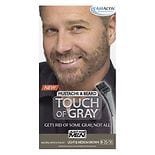 Just For Men Touch of Gray Mustache & Beard Haircolor B-25/ 35 Light & Medium Brown (1 ea)
Sale price is $8 and 99 cents

And Regular price is $9 and 99 cents
Beard color
A beard color effectively treats the gray spots and uneven hair color that you have on your face. The newest types of beard colorings target the gray, blending your original hair color with the dyed shade. Beard color comes in a number of natural shades including several shades of brown and black.
Choosing the right beard dye
Choosing the right beard dye often involves trial and error because the hair on your face is slightly different from the hair on your head. The boxes resemble hair dye boxes because the boxes include the color or shade on the front. Look for a color that closely matches the color of your beard. If you cannot find an exact match, choose a color that is within at least one shade of your natural hair color. You can also opt for a beard hair dye that is the same color as your hair. When you use the beard color, it makes your beard match your natural hair.
Color a mustache too
When picking a beard color, don't forget about your mustache. The right color works effectively at covering gray spots in both your beard and mustache. You can even use the product as a mustache dye to cover gray spots in your mustache. Some men choose a beard dye even if they don't have a beard because they have gray mustache hairs. The color is strong enough to adhere to your beard and mustache hairs without leaving behind any trace of the dye, making you look years younger.