Price and inventory may vary from online to in store.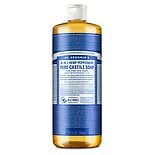 Dr. Bronner's Hemp Pure-Castile Soap Peppermint (32 fl oz)
$
17
99
$17 and 99 cents
  $0.56

/ oz.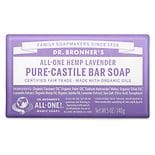 Dr. Bronner's All-One Hemp Pure-Castile Soap Bar Lavender (5 oz.)
$
4
99
$4 and 99 cents
  $1.00

/ oz.
Castile Soap
When you're concerned about the health of your skin, your overall well-being and the safety of the planet, you want to be extra choosy about the products that you use on a daily basis. Many people use Castile soap as a part of their personal care and home care routines because of its many benefits and eco-conscious formulation. If you're looking to add Castile soap to your daily life or stock up on your favorite Castile soap products, Walgreens can help with an assortment of options from popular brands like Dr. Bronner's.
What Is Castile Soap?
Castile soap is a kind of cleanser that originated in the Castile region of Spain, which is how it got its name. The first Castile soaps were developed in Spain during the 11th century based on recipes brought back from the Middle East during the crusades. Originally, Castile soaps were made solely from olive oil and animal fat. Today, a Castile soap may be produced with any number of plant oils, and many formulations leave out animal-based ingredients to make them compatible for those committed to vegetarian or vegan lifestyles. It's important to remember that there is no single definition for the term Castile soap. The term can be broadly applied to many natural soaps, making it important that you read the product descriptions to find out exactly what's contained in a particular formula.
Why Use Castile Soap?
Many people use Castile soaps as skin care products, using them to cleanse the skin on their faces and bodies. Often, the choice to use Castile soap is based on concerns about the environment. Because Castile soap is usually made entirely or almost entirely from natural ingredients, it fits well into a green skin care routine. In addition, Castile soaps are generally biodegradable, so they don't release contaminants into the water supply when you rinse your skin in the sink, tub or shower. People with sensitive skin may also prefer to use a Castile soap instead of an ordinary bar soap in order to avoid synthetic ingredients to which their skin may react.
Other Uses of Castile Soap
Today, Castile soap products aren't just used for skin care. Many people use them around the house to tackle various cleaning jobs. The biodegradable, natural ingredients in Castile soap make it a popular alternative to traditional synthetic detergents and household soaps. Castile soap can be used on its own or combined with other ingredients to create green dish soap, laundry detergent, dishwasher soap, all purpose cleaners, glass cleanser, tubs and tile cleaners and floor cleaners. It can even be used for tough cleaning tasks like washing a car or getting baked-on grime off of an appliance.
Bars vs Liquids for Cleansing
Castile soap is available in both bar and liquid forms to meet your needs. If you're looking for a Castile soap for cleaning your home, a liquid is more likely to benefit you. For cleansing your skin, both liquid and bar products can be beneficial. Liquid soaps are often considered faster and easier to use, but bar soaps can better control the quantity of soap that you use each time to help prevent wastage. Some people may also prefer the lather or cleansing actions of one form of Castile soap over another.