Price and inventory may vary from online to in store.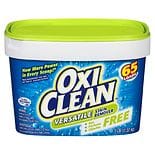 OxiClean Versatile Stain Remover Perfume Free & Dye Free (48 oz.)
$829
$8 and 29 cents
$0.17

/ oz.
$799
$7 and 99 cents
$0.82

/ oz.
$629
$6 and 29 cents
$0.13

/ oz.
Clean Perfume
Nothing smells better than the simple scent of clean -- clean clothes, fresh, clean skin, soft, clean breezes. That's why CLEAN Perfume, by CLEAN, is a favorite of both men and women. This unassuming perfume line offers crisp, light scents that are reminiscent of days gone by. A couple of spritzes of CLEAN Perfume, and you'll embrace each and every day with a carefree attitude and a sunny spirit -- rain or shine.
A Fresh Idea
Inspired by a bar of soap in 2003, CLEAN knew it wanted to introduce a fragrance that was like no other. Rather than the heavy, pungent scents of many perfumes, CLEAN decided to present a fresh, pure scent with the kind of simplicity women love.
A Nature-Inspired Blend
CLEAN's original perfume scent was designed for women who enjoy a more subtle fragrance. Refined touches of citrus are layered over passion lily, rose and geranium, with just the right amount of spring, floral and white musk added to the mix.
And as if the original scent of CLEAN Perfume wasn't "clean" enough, CLEAN has continued to introduce many more laundry-fresh fragrances to its product line. In fact, CLEAN Fresh Laundry is a perfume that will remind you of freshly-laundered linens. But if you are someone who enjoys the airy scent of a newly washed tee, CLEAN Cotton T-Shirt, with its hints of rosewood, warm musk, bergamot and freesia, is for you. CLEAN Shower Fresh will give you that out-of-the shower, sweet smell. And if you can't get enough of the clean-laundry scent, there's CLEAN Cool Cotton, CLEAN Summer Linen, and many other sunny, CLEAN scents to add to your list of favorites.
Commitment to Quality
CLEAN Perfume contains only the safest, high-performance and nonirritating ingredients. All formulas are hypoallergenic, using no artificial colors or dyes. And CLEAN products are never tested on animals. This is a company that is eco-conscious right down to the packaging.
If you are someone who loves the simple, clean pleasures in life, you and everyone around you will love CLEAN Perfume. After all, who doesn't love a breath of fresh, clean air?